Predator
(1987)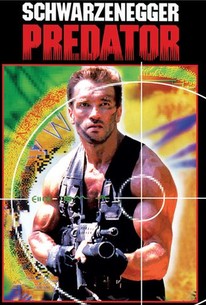 Movie Info
Dutch (Arnold Schwarzenegger) has a code of honor which he will not violate, even when his life depends on it. Paradoxically, his code of honor gives him the backbone to survive as a military special forces operative when he is sent on a covert mission to rescue another group which was sent in to assist some nefarious U.S. government plan in a Latin American country. Once there, he encounters an old army buddy (Carl Weathers) who has gotten too deep in the CIA's good graces for Dutch's comfort. When he and his team go into the jungle to rescue the others, they get involved in a pitched battle with local guerillas, but they are more than capable of besting these vicious fighters. However, not long after that, they encounter signs that the equally capable men they were sent to rescue were all killed unawares and in an unusually gruesome fashion. Given their training, it should have been impossible for anyone to best all of these commando warriors. Soon, the men from Dutch's own team get picked off one by one, as they grow aware that they are up against something uncanny, not of this world, something that is hunting them for sport. Why? Because their skills make them worthy opponents for the perfectly camouflaged Predator. This carefully paced action movie was given poor reviews by many movie critics, but was sufficiently satisfying for its (largely male) audiences that a successful sequel (Predator 2) was released in 1990. ~ Clarke Fountain, Rovi
Critic Reviews for Predator
Audience Reviews for Predator
½
A close call as one of Arnie's best films. A very good action/horror that still looks up to date with recent films.
½
This film is a strange hybrid of the horror genre and the action genre, leaning more towards action thanks to the casting of beefcake Arnold Schwarzenegger. The film follows the exploits of a special regiment of soldiers who are dispatched into the South American jungle to find a missing crew. In wait is a shipwrecked alien creature who hunts all the humans it comes into contact with. The gory deaths of the crew, as the Predator takes them down one by one, makes up the first section of the film, and shows the lack of empathy that this being has for human life. He is on this planet to hunt and kill, and with the knowledge of this motivation, comes uncertainty that any character will actually survive. Arnold, of course, becomes the everyman in this situation and is given the responsibility of taking down the motley creature, through any means necessary. It's definitely an interesting film, since it deals with survival and the endurance of the human spirit. The Predator is a very grotesque and original concept for an alien, and that's why it has lasted as an iconic movie monster.
Spencer S.
Super Reviewer
What if the victims in a horror film were ready for a fight ... were in fact a crack team of mercenaries? That's the opening premise of this 80's pulse pounder that centerpiece is the dream faceoff of Ahnold against the space alien. B movie aesthetics, A movie thrills.
Kevin M. Williams
Super Reviewer
Predator Quotes
| | |
| --- | --- |
| Maj. Alan "Dutch" Schaefer: | Mac! |
| | |
| --- | --- |
| Sgt. Blain: | I ain't got time to bleed. |
| Sgt. Blain: | I ain't got time to bleed. |
| | |
| --- | --- |
| Maj. Alan "Dutch" Schaefer: | You are one ugly motherfucker! |
| | |
| --- | --- |
| Billy: | There's something out there waiting for us, and it ain't no man. We're all gonna die. |