Predator 2
(1990)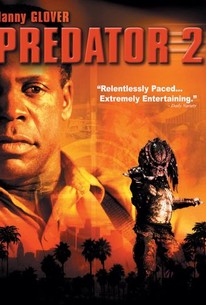 Movie Info
This special effects-heavy science fiction sequel moves the action from the first film's Amazon forest to the urban jungle of L.A. Danny Glover stars as Lt. Mike Harrigan, an LAPD detective baffled by his latest case, the ritualistic slaughter of several drug dealers by a devastating killer who leaves no traces. As Harrigan and his partners, Danny Archuletta (Ruben Blades), Leona Cantrell (Maria Conchita Alonso), and Jerry Lambert (Bill Paxton), try to figure out who or what killed the criminals, FBI investigator Stephen Keyes (Gary Busey) attempts to warn the team away from investigating further. When two of his team are killed in a particularly grisly way, Harrigan uncovers the truth -- their quarry is an alien creature that hunts humans for sport. Attracted to violence, its latest choice of prey is gun-toting Jamaican drug dealers. Keyes and his team know all about the nasty extraterrestrial and its bloody pastime because they've been studying it for ten years, and they've come up with a possible means of dispatching the beast. When that plan backfires, however, it comes down to Harrigan and an extremely irritated otherworldly foe, slugging it out in a rooftop confrontation. ~ Karl Williams, Rovi
News & Interviews for Predator 2
Critic Reviews for Predator 2
Audience Reviews for Predator 2
½
The core conceit of the Predator franchise (the hunted victims are prepared for a fight, different than most horror films, right?: " ... didn't expect that monster was actually trying to KILL us", hence upping the anxiety quotient) is discarded for the following feature, successfully ruining the supposed gist of the proceedings and reducing this to a simple us-against-them typical monster piece despite the top heavy cast.
Kevin M. Williams
Super Reviewer
Its a shame that 'Predator 2' doesn't meet to the same standards as Schwarzenegger's action filled gore fest. Having Jamacian gangsters didn't help either, with stereotypes or story. The only highlight is having 'Lethal Weapon's Danny Glover and Bill Paxton (Aliens). Overall, what this film did wrong was creating the spin off universe of 'Aliens Vs Predator'.
Samuel Riley
Super Reviewer
½
Not as good as the original but the urban location, original casting of some great character actors, new look predator, new weaponry and amazing take your breath away action with an excellent ending leaves you wanting more hunting action. Top notch visuals and effects with some lovely over the top cliched characters all add up to a film just out of the 80's but clearly living the dream hehe. Plus you've got 'Private Hudson' incarnated again (he's also come back as a vampire in 'Near Dark') to take on predators ;) A rip roaring violent, bloody and foul mouthed masterpiece that is criminally underrated.
Phil Hubbs
Super Reviewer
Predator 2 Quotes
| | |
| --- | --- |
| The Predator: | Want some candy? |
| | |
| --- | --- |
| Danny Archuletta: | A pro would have split the moment the action started. More than one we would have seen them. Whoever did this waited until the last second, took out six guys armed with machine guns by hand, then got by us. Maybe we should give him a job. Put him on the payroll. |
| | |
| --- | --- |
| King Willie: | You never see the eyes of the demon until he comes a calling |
| King Willie: | You never see the eyes of the demon until he comes a calling. |
| | |
| --- | --- |
| The Predator: | Take your weapon. |