The Prestige
(2006)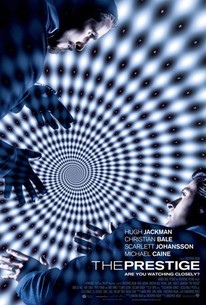 Movie Info
In 1878, two young stage magicians clash in a darkened salon during the course of a fraudulent seance. From this moment on, their lives become webs of deceit and exposure, secrets and revelations, as they feud to outwit and destroy one another. Their rivalry takes them both to the peak of their careers, but with terrible consequences.
Critic Reviews for The Prestige
Audience Reviews for The Prestige
½
A cool film with a few good twists along the way.
Having delivered such strong films as Memento, Inception and Interstellar (outwith the hugely successful Dark Knight trilogy), it's safe to say that director Christopher Nolan's output is of a very high standard. Many may even claim that he's yet to make a bad film and that his filmography is nothing but quality. For me, though, The Prestige is an exception to that and a major blip in an otherwise solid résumé. At the turn of the 19th century, celebrated stage magician Alfred Borden (Christian Bale) is accused of the murder of Julia McCullough, the wife of his partner Rupert Angier (Hugh Jackman). Her death happened during a magic trick but Angier puts the blame solely on Borden. As a result, the pair become rivals and a bitter feud takes place between them as they try to sabotage each others tricks with dangerous consequences. As the film opens, we are informed that every magic trick consists of three parts or acts. The first part is called "The Pledge" where the magician shows you something ordinary. The second act is called "The Turn" where the magician takes the ordinary something and makes it do something extraordinary (like disappear). But making something disappear isn't enough; you have to bring it back. That's why every magic trick has a third act, the hardest part, the part that's called "The Prestige". And so the stage is set for Nolan's stylish and elaborate sleight of hand. He adheres to this magicians three act rule in the films structure but it's the hardest act (and the one that shares the film's title) that actually undoes the whole affair. In saying this, it would suggest the film is let down solely by it's reveal. It's not. From the outset the film is very slow and tedium sets in very early. I don't have a problem with slow builds and I'm actually very fond of a good magic trick. Nolan's premise is very enticing and having two warring magicians play against each other should make for gripping entertainment. Only it doesn't. It's a laborious and excruciatingly dull endeavour which is very surprising considering it has Nolan in charge. With films of this kind, you know there will be an attempt to pull the rug from under your feet. That's a given and given Nolan's track record of being more than able to deliver a good twist you expect that you're in safe hands. However, it reaches a point where it's just one preposterous plot twist after another with the ultimate misgiving being that Nolan doesn't capture a sense of wonder. It's difficult to accept the plot developments when you know that it's all just elaborately staged for the sake of it. It's like trying to convince the viewer that CGI is actually real. There's no way your going buy it and this film is as similarly unacceptable as that preposterous proposal. As for the final reveal, when it actually happens, it just stinks. It's a ludicrous revelation that's so tenuous that it's practically impossible to work it out and left me with feelings of frustration. Maybe this was Nolan's intentions all along but, to me, it felt like a con. Granted, Nolan has a good eye for the period and his regular cinematographer Wally Pfister does some beautiful work in capturing the Victorian era amidst Nathan Crowley's impressive production design. To the eye, it certainly looks the part but really the appearance is all smoke and mirrors. There's really no consistency underneath it all. Even having the charismatic leads in Bale and Jackman should work in it's favour but the film never really knows who to fully focus on at any given time leaving the development of their relationship - and their own identities - a bit of a muddle. It's hard to know which one to root for as their character arcs are continually blurred and messily delivered. From what I can gather, I'm in the minority with this one. Many critics and viewers have lavished nothing but praise on it but I fail to see what the attraction is. As I've said, the three act structure is undoubtedly on show; we are offered the "pledge" and it delivers the "turn" but Nolan's reveal simply doesn't work, leaving the final product lacking the "prestige". Which doesn't say very much for a film that can't even live up to its own title. Mark Walker
Mark Walker
Super Reviewer
½
It's become lazily popular to dismiss Christopher Nolan as a cold, clinical director. Critics of his work frequently attack his approach to characters and dialogue, claiming that they are little more than vessels for ideas, and that by extension his ideas are not complex enough in the first place. Whether you attribute such attitudes to snooty critics or disgruntled fanboys, it's an attitude which seems unlikely to go away any time soon. Viewed from this perspective, The Prestige presents itself as an excellent counter-argument. Coming between the film which made him a big name in Hollywood and the film which immortalised him for a generation, this is a demonstration that Nolan can do small, intricate, character-driven pieces every bit as well as blowing up buildings. More than that, it's a reminder of how effective his approach to character construction can be - a reminder which is still scintillating after nine long years. First and foremost, The Prestige looks fantastic. Wally Pfister's directorial ambitions to date may have come to little, but as a cinematographer he remains arguably the best in the business. Where so many period dramas have a cookie cutter feel, borrowing all too readily from either Pride and Prejudice or Barry Lyndon, Pfister and Nolan's vision of Victorian London is completely bespoke, at once modern and historic. Pfister achieves an excellent balance between the glaring bright light of the stage lights and Nikola Tesla's lightning with more velvety, textured tones and an effective use of shadows even in the darker scenes. Rather than simply looking pretty, however, Nolan's version of Victoriana is steeped in what could poetically be called the mystery of modernity. Many period dramas seek to emphasise the antiquated, pastoral or reactionary tendencies of their time period, contrasting our busy, technology-driven lives with simpler, possibly more elegant moments in our history. The Prestige, by contrast, emphasises the modern, innovative nature of this world, focussing on the confluence between science and imagination. It puts the audience on the cusp of the greatest and most dangerous development of the age, leaving us in a permanent state of both unease and curiosity. The Prestige is primarily a film about obsession, a trait which is reflected in multiple ways in the main characters. Like Guy Pearce's character in Memento, both Robert Angier and Howard Borden are romantically obsessive, the former for his dead wife, the latter for his estanged love and by extension his daughter. These obsessions merge with their natural competitive desire to outdo each other, which expresses itself in their showmanship to their audiencez and their increasingly ruthless desire to outdo one another. Nolan is making a very clear point about class in this character dynamic, contrasting Borden's earthy yet often uninspired approach to tricks with Angier's aristocratic love of flair and panache. The death of Angier from this perspective is a nod to the declining social position of his ilk, and in the long-term the death of a particular style of theatrical performance. From this angle, one could liken it in a strange way to The Entertainer, with Angier filling the shoes of Laurence Olivier's Archie Rice. But the final defeat of Angier also makes a point about the fruitlessness of obsession and competition. While Borden is able to confront his obsession, finally putting the needs of his family first and giving up his art, Angier remains a prisoner to the end; his constant desire to beat Borden, whether out of vengeance or spite, has left him a hollow shell. His trick wins over the crowd, but without the deeper love of his peers, his victory is meaningless and he dies a broken man. It would have been very easy for Nolan to make a film in which two characters simply talk about how obsessed they are, intercutting this with glitzy set-pieces involving the tricks. But Nolan instead conveys the struggle through the characters, setting up the initial conflict and allowing the actors to deepen the characters as their obsessions intensify. The characters are defined by the ideas and themes that surround them, but their personalities are not restricted by either. And while the women in the film are dealt a slightly weaker hand in this respect, Scarlett Johansson and particularly Rebecca Hall are more than capable of holding their own in their given scenes. The Prestige is also very much about perception, particularly about how magic and science can both challenge our accepted versions of reality. The magical aspect of this is pretty clear: most films about stage magic have long sequences about misdirection and sleight of hand. But The Prestige goes further than, say, The Illusionist from the same year, talking about the purpose of misdirection rather than just the mechanics of it. There are long discussions about the need to challenge the expectations of the audience, and the power that comes from causing people to believe the impossible. Borden and Angier's search for this ecstatic moment in magic is mirrored by Nikola Tesla's experiments in the middle section of the film. The first glimpses of Tesla's arching electricity fells us with terror and dread - a feeling which turns to eerie wonderment during the light bulb scene and then Tesla's immensely cool entrance. From there we are taken on a journey through the frustration that comes with experimenting, and then the surprise and (albeit considered) elation of success. The central lines of The Prestige are spoken by Tesla when Angier attempts to commission him to build the machine. When Angier claims that it is impossible, Tesla responds: "Nothing is impossible, Mr. Angier, what you want is merely expensive". The words are both extremely confident and immensely cautionary, with Tesla's reluctance coming from the knowledge of where his innovation will lead. David Bowie plays him as the Cassandra of the piece, whose sad warnings fall on deaf ears; Bowie is perfectly cast and gives what may be his best all-round performance since The Man Who Fell to Earth. Having given us memorable characters and a whole lot of substance on which to chew, Nolan completes his brilliant misdirection through twisty, non-linear storytelling. While the narrative structure is not as radical as Memento's, it does justice to the epistolary nature of Christopher Priest's source material, and by jumping around in time the audience is kept constantly guessing. Non-linear storytelling should never be viewed in gimmicky terms, with a film automatically becoming stronger if it uses it. It's a question of finding the right way to tell a given story, and this is the right way for this particular tale. The Prestige is an excellent mystery thriller which combines strong characters with memorable storytelling and a series of fascinating, complex ideas. While it is perhaps slightly too long and a little too twisty for its own good in the last act, these are small, easily forgivable flaws in the context of a damn fine piece of cinematic craftsmanship. Inception may have since surpassed it as Nolan's best film, but it's still a fitting reminder of his skill with characters and the benefits of his storytelling methods.
Daniel Mumby
Super Reviewer
The Prestige Quotes
| | |
| --- | --- |
| Robert Angier: | Man's reach exceeds his imagination! |
| | |
| --- | --- |
| Olivia Wenscombe: | It's inhuman to be so cold. |
| | |
| --- | --- |
| Robert Angier: | He's out of his mind! |
| Olivia Wenscombe: | He's an out-of-work actor--of course he's out of his mind. |
| Olivia Wenscombe: | He's an out-of-work actor, of course he's out of his mind. |
| | |
| --- | --- |
| Olivia Wenscombe: | You're going to need a better disguise. |