Pretty Bird
(2008)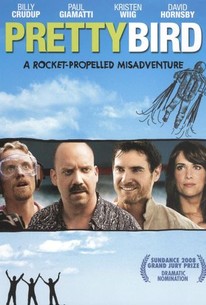 Movie Info
A fast-talking rainmaker, his wealthy acquaintance, and an unemployed aerospace engineer forge an unusual partnership that hastens the deterioration of their relationships while forever altering the course of their lives in director Paul Schneider's minimalist tale of American entrepreneurialism. Curtis Prentiss (Billy Crudup) is a terminally optimistic dreamer who rolled into a small town with little more than an enthusiastic sales pitch and an unusual set of blueprints. When Curtis' unique plans for a personal "rocket belt" that he claims will revolutionize personal travel captivates the imagination of a gifted but out-of-work engineer (Paul Giamatti), all three men embark on an ambitious quest to raise the capitol needed to finance their endeavor and make flight more accessible to the masses. While the results are indeed promising, the stress of both the task at hand and some unexpected success soon takes an unhealthy toll on the venturesome partnership.
Critic Reviews for Pretty Bird
Audience Reviews for Pretty Bird
"A rocket-propelled misadventure." A comic tale of three would-be entrepreneurs who set out to invent a rocket belt. The clash of their mismatched personalities soon dissolves the business into a morass of recriminations and retaliations, kidnapping, and murder in this parable of American dreams and delusions.
REVIEW
This is another quirky independent film, this one about a pair of business-oriented dreamers who are all attitude and no substance. The great idea is a working rocket belt, something neither of them know anything about. What they have instead is an abundance of business models, motivational pep talks and winning slogans. For the actual rocket belt they succeed in hiring an actual unemployed rocket scientist who begins to develop a prototype. Much of the humor is Gogolesque, treading a fine line between absurdity and apparent success. They are successful in raising money from dreamers like themselves. There is a broad satirical implication that "the money people" are a class apart requiring to be spoon fed a certain formula unrelated to business realities. But the project is satisfyingly rejected by the big-time investors, summarily dismissing it as needing "more science" (itself a business euphemism). The film is thus very amusing from the outset and I was prepared for more amusing developments. But the story takes some unfunny turns. The rocket belt becomes the focus of in-fighting which is carried almost to the point of bloodshed. This is probably because it is based on a true story, but that does nothing for poetic justice. This film turns into one focusing on male bonding or the lack of it. The two original entrepreneurs are best friends with a bond that supersedes anything, including reason. The third partner, the rocket scientist, engages with the two to gain recognition, but in the long run the original promoter is implacable. At issue is the prototype rocket belt itself which he has hidden. You aren't supposed to ask the seemingly reasonable question why the scientist, who is the only one who knows how the thing works, doesn't just build a second prototype--maybe this time one capable of better than 30 seconds flight time. So much is this an all-male film that what might otherwise have been a romance developing between the original promoter and Kirsten Wiig's character is simply dropped, as if for lack of interest. It all adds up to a flick which starts out very funny and is worth watching to the end, but with a little let-down so far as humor is concerned.
Lorenzo von Matterhorn
Super Reviewer
In "Pretty Bird," Curtis(Billy Crudup) has an idea. So, he goes to his best friend Kenny(David Hornsby) who has a successful mattress business and therefore the necessary capital. The next step is an aerospace engineer, and somehow without alerting several government agencies, he contacts Rick(Paul Giamatti), very much out of work and badly in need of something to occupy his time. Together they form Fantastic Tech where Curtis plans to build personal jet packs from blueprints found at the local library, inspired by the movie "Thunderball." In the end, this is a rambling and offbeat movie that holds together as well as it does due to the always excellent work from Crudup and Giamatti. A lot of "Pretty Bird" has to do with people who have found only disappointment in life, just as the future is not the one we all imagined, especially with no flying cars.(Although, there is one in "The Man with the Golden Gun.") Kenny became a success but not by following his dream while Curtis and Rick are still going in their original directions at different speeds, as one is practical while the other one has his head always in the clouds. And on the surface, it might seem strange to be inspired to build something from a James Bond movie but I think I remember hearing about the navy utilizing the idea of the underwater breathers also from "Thunderball," so who knows?
½
Cast: Billy Crudup, Paul Giamatti, David Hornsby, Garret Dillahunt, Kristen Wiig, Denis O'Hare, Aasif Mandvi, Elizabeth Marvel, James Wetzel Director: Paul Schneider Summary: Lovable loser Curtis Prentiss (Billy Crudup) enlists the help of his friend Kenny (David Hornsby) and ornery scientist Rick (Paul Giamatti) to build a rocket belt, which Curtis firmly believes will make him famous. But the partners soon learn that business and friendship don't mix. My Thoughts: "This was unfortunately a big stinker. The only reason I continued watching it was for Paul Giamatti. He is the only reason to sit through this film. His performance was funny, neurotic, and full of anger. But the film still ended up being a bore. Giamatti couldn't save it. The characters aren't very interesting (although Curtis is a bit of a nut) and neither is the story. I have that problem where you pick films to watch because there is an actor/actress in it you like or love without reading the story-line. Well unfortunately Paul Giamatti associated himself with this film. He is much better then this film. I am a fan of Paul Schneider, but this wasn't the best film for him to make his directorial debut. Hope he continues to direct, but just chooses a better film to do next time."
♥˩ƳИИ ƜѲѲƉƧ♥
Super Reviewer
Pretty Bird Quotes
| | |
| --- | --- |
| Mandy: | "Maybe you should leave. I'm starting to feel like I want to take my pants off." |
| Mandy: | Maybe you should leave. I'm starting to feel like I want to take my pants off. |