Pretty in Pink
(1986)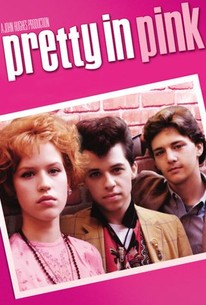 TOMATOMETER
AUDIENCE SCORE
Critic Consensus: Molly Ringwald gives an outstanding performance in this sweet, intelligent teen comedy that takes an ancient premise and injects it with insight and wit.
Movie Info
John Hughes crafts an exemplary '80s Brat Pack romance out of the standard Cinderella story in Pretty in Pink. Andie Walsh (Molly Ringwald) is a teenager who lives in the dingy part of town with her terminally underemployed dad (Harry Dean Stanton). She works at a record store with eccentric Ionia (Annie Potts) and is considered a misfit at her uppity high school, but somehow she rises above them all. Her oddball best friend, Duckie (Jon Cryer), is hopelessly in love with her, so he causes trouble for her romantic pursuits. When local rich kid Blaine (Andrew McCarthy) develops a fascination with her, they go out on a date together. Visiting the home bases of each social clique, they are basically ridiculed for their audacity to date one another. When Blaine eventually asks the delighted Andie to the prom, he is threatened by his rich friend Steff (James Spader). The romance versus high school social politics finally culminates at the big night of the prom. ~ Andrea LeVasseur, Rovi
News & Interviews for Pretty in Pink
Critic Reviews for Pretty in Pink
Audience Reviews for Pretty in Pink
A sweet coming-of-age story with an adorable sense of humor, an awesome soundtrack and some superb performances by Stanton, Cryer and Potts, and if the end may not please you (like it did please me), the sincere way the movie shows the insecurities of youth definitely will.
Carlos Magalhães
Super Reviewer
In typical John Hughes fashion, Pretty in Pink is nostalgic, beautifully-filmed, touchingly honest, and wonderfully enjoyable.
Matthew Samuel Mirliani
Super Reviewer
½
I had moderately high expectations for "Pretty In Pink" because I enjoyed John Hughes's (superior) "Sixteen Candles," and I was already familiar with its parody in "Not Another Teen Movie." I was ultimately disappointed though mainly because Andie's prom dress is a Pepto Bismol atrocity. Just kidding. The poor girl-rich guy love story rang even falser. Blane and Andie's attraction is just googly-eyed faux-chemistry. What is this "something" that he sees in her? (I'm sure we, the audience, see it cuz Molly Ringwald rocks, but there's no scene in the movie that shows her striking his fancy.) What does she see in him? Is he that different from his richie rich friends, or doesn't he still just get by on his high class looks and sophisticated charm? On the date, he is incredibly naive about his friends' anticipated reception, and he does say some unintentionally condescending things that would rub me the wrong way. The class conflict is also slightly incidental and doesn't come across as a problem until the date. We know that Andie is poor, but it's unclear that she pays to attend a rich private high school with students who bully her for her relative penury. I thought it was just for her independent, free-spirited ways. I'm also more than a little perturbed that the parody of Andie and Duckie's friendzoniest of friendzones is almost without exaggeration! Everyone is so totally oblivious! Even after Andie comes home and says, "I'm in love," her dad doesn't automatically assume she's talking about Duckie, who earlier confessed his love for her to Jack. Jon Cryer as Duckie is just charming and devoted as all-get-out, albeit embarrassingly silly and slightly clingy. His tell-off speech is probably the best dramatic work I've seen of Cryer's, which is a shame. That's not to say I necessarily wanted Andie to end up with the friendzoned best friend (because unconditional idolatry bordering on obsession isn't what she wants or needs either), but his prom date savior move and sacrificial all-but-slow-clapping endorsement of Blane's bland non-apology is just too much and too sad.
Alice Shen
Super Reviewer
Pretty in Pink Quotes
| | |
| --- | --- |
| Andie Walsh: | What are you doing? |
| Phil "Duckie" Dale: | I had to use the powder room, so I figured that I'd come in the back. |
| Andie Walsh: | I'm sure there are bathrooms all over the place. |
| Phil "Duckie" Dale: | I'm not nine, Andie, I know that. |
| | |
| --- | --- |
| Steff McKee: | Andie, you're a bitch. |
| | |
| --- | --- |
| Phil "Duckie" Dale: | I'm off like a dirty shirt. |
| | |
| --- | --- |
| Andie Walsh: | I just want them to know that they didn't break me. |