Pretty Persuasion
(2005)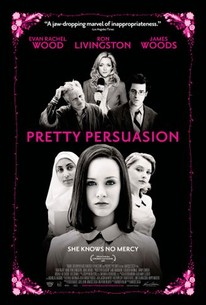 TOMATOMETER
AUDIENCE SCORE
Critic Consensus: Pretty Persuasion aims for high satire but falls short of poignancy by depending on too much black humor, with too little redeeming humanity to provide balance.
Movie Info
One of the "popular girls" decides to put her mean streak to work in this black comedy. Kimberly Joyce (Evan Rachel Wood) is an outwardly friendly but inwardly cold and manipulative teenager who attends an exclusive private school in Beverly Hills when she's not making fun of her twentysomething stepmother (Jaime King) or listening to her business mogul father (James Woods) rant about the many people he hates. Kimberly's best friend is Brittany (Elisabeth Harnois), who doesn't seem to notice that Kimberly holds a bit of a grudge over the fact Brittany is now dating Troy (Stark Sands), Kimberly's former boyfriend. When Randa (Adi Schnall), an exchange student from the Middle East, arrives at school, Kimberly is asked to show her around, and soon she's giving her the inside scoop on the school's social hierarchy. Kimberly, Brittany, and Randa, like most of the girls at school, don't much care for Mr. Anderson (Ron Livingston), a teacher who doesn't make much of a secret of his lust for the female student body, though he doesn't do much besides look. Kimberly decides to do something about Mr. Anderson by fabricating a story that he has had inappropriate contact with her, Brittany, and Randa, and it doesn't take long for the matter to become a local scandal, though it does end up backfiring on Kimberly in time. Pretty Persuasion also features supporting performances from Selma Blair, Jane Krakowski, and Michael Hitchcock.
News & Interviews for Pretty Persuasion
Critic Reviews for Pretty Persuasion
Audience Reviews for Pretty Persuasion
Hmm this wasn't what I expected at all. It takes a bit from quite a few bigger and better films and ends up no where near as good as any of them. It has a touch of Mean girls, Election, Cruel intentions and mostly plot wise Wild things. However without being as dramatic, shocking, sexy or as intelligent as any of them. If you like the above you might want to check it out, otherwise make sure you see the films mentioned, as they have similar story lines but are much better films.
This is the textbook definition of vicious self-satisfaction. Evan Rachel Wood's hilarious deadpan steamrollers over everything she touches. The way she holds herself with such decisive control is impressive at such a young age (I can kind of imagine Dakota Fanning in something of this role in the future, actually) and she is the one that makes this movie THE best out of all its precedents (Heathers, Cruel Intentions).

It was necessary for this movie to be independently made because the straight-up racism wouldn't have been approved anywhere else. And the racism and gutsy ventures into taboo territory are what make this movie unforgettable.

But even though I really, really enjoyed this movie, it lacked the balls to make the full vitriolic monty, opting for the redemption arc instead, with internal turmoil + tears+ all. Come on people, we don't live in the age of the Hays code anymore - not everything has to end for the good.
Jennifer Xu
Super Reviewer
"Evil comes in a school uniform." A 15-year-old girl incites chaos among her friends and a media frenzy when she accuses her drama teacher of sexual harassment.
REVIEW
The first feature film from director Marcos Siega is off beat as both a comedy and drama. The viewer finds himself in situations of uncomfortable, guilty laughter while at the same time mesmerized by the social topics and excellent acting. The cadence of the dialogue is beyond description and is perfectly displayed at the dinner table with Evan Rachel Woods, her dad played by an over the top James Woods and her new step mom. The family dog plays a big part in the "conversation". The heart of the story is the devilishly orchestrated false (or are they?) accusations of sexual harassment against drama teacher Ron Livingston. With so many different agendas at play, we can't help but be drawn into to this story on many levels. Jane Krakowski shows a real Priscilla Presley side as the lesbian, glory-hound reporter. Selma Blair is terrific as Livingston's semi-supportive wife. Make no mistake, the real star of the film, and the reason it works is the extraordinary talents of Evan Rachel Wood. Wood takes teen ego and self-centeredness and revenge to a whole new level. As one of the male teacher's states, her character is the devil. Watching how she manipulates her friends, teachers, boys and adults is quite the guilty pleasure. Very few actresses her age could pull off the role of this complex character.
Lorenzo von Matterhorn
Super Reviewer
Pretty Persuasion Quotes
There are no approved quotes yet for this movie.