Price of Glory
(2000)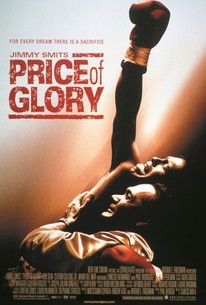 Movie Info
Jimmy Smits returned to the big screen after a career-reviving stint on the TV series NYPD Blue with this emotional drama about the difficult relationship between a father and his sons. Smits plays Arturo Ortega, a man with lifelong dreams of being a contender in professional boxing. While Arturo had the knowledge, drive, and ambition to be a champ, his career proved short-lived, and, after a brief fling with success, he's a forgotten man. However, Arturo has instilled his passion for boxing in his three sons, who grow up learning the fine art of prizefighting. All three boys begin competing in the ring, with Arturo as their manager and coach, but Johnny (Jon Seda) quickly shows so much promise that other managers and promoters want to take over his contract and put him on the fast track to the championship. Arturo feels betrayed when Johnny wants to work with another manager, while his other two sons resent Johnny for turning his back on his father and wish Arturo had the same belief in their talents in the ring. The debut feature from director Carlos Avila and screenwriter Phil Berger, Price of Glory also features Maria Del Mar, Ron Perlman, Paul Rodriguez, and Clifton Collins Jr..
Critic Reviews for Price of Glory
Audience Reviews for Price of Glory
Fantastic movie!! This is an absolute favorite of mine. After the pivotal peak and rise of HBO's original 'Resurrection Blvd," here is a film with similar interests and highlights of a family in boxing. The movie reflects around the Ortega family who lives near the border of Arizona. Arturo was once a young boxer who dreamt of becoming world champion, but his dreams were crushed the day when he lost a bout in a money fight. Several years later, he teaches and trains his three young sons in hopes that boxing will help secure their future financially. As they get older, they soon realize their dreams are getting bigger as well as their interests. The family embarks upon several new stages in their lives, and Arturo realizes that choices and decisions are no longer his to make but that of his sons. Great cast- Jimmy Smits, Clifton Collins, Jon Seda, Maria Del Mar, Louis Mandylor, and Sal Lopez. Great music! Definitely worth seeing.
Price of Glory Quotes
There are no approved quotes yet for this movie.