Priceless
(2006)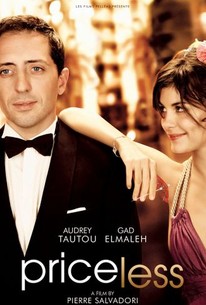 Movie Info
A woman who has never had much trouble choosing between love or money tries to teach a man the tricks of the trade in this sly romantic comedy. Irène (Audrey Tautou) is an attractive thirtysomething woman who lives a comfortable life by taking up with older and very wealthy men. Irène is serving as arm candy for Jacques (Vernon Dobtcheff), who is twice her age and quite rich; Jacques takes Irène on a vacation to a resort in the French Riviera for her birthday, where she meets Jean (Gad Elmaleh), a handsome bartender at the hotel who works a variety of odd jobs to keep himself afloat. While Jacques spends Irène's birthday sound asleep, she ends up enjoying a romantic evening with Jean, until she discovers he's broke. A year later, Jacques and Irène return to the resort, and Jean discovers he still carries a torch for her. Irène is not so interested until Jacques decides he's had enough of her and breaks off their relationship; suddenly forced to fend for herself, Irène turns to Jean for help. Jean, meanwhile, has learned that Madeleine (Marie-Christine Adam), a handsome and very well-to-do widow in her sixties, has her eye on him and wishes to make Jean her kept man. Jean asks Irène to give him a crash course in the fine art of being a gigolo, while Irène tries to get back in the game by taking up with Gilles (Jacques Spiesser). Slowly but surely, Irène and Jean realize how much they care for one another, but can they get learn to live the good life without money?
Critic Reviews for Priceless
Audience Reviews for Priceless
C'est magnifique! Audrey is smoldering and tempestuous and charming and *head explodes.* Story seems basic at first - gold-digger mistakes a poor man for her mark - but the second act twist of Jacques becoming a kept man allows for some nice dramatic/comedic bonding over the ways of the grift. The motif of the "euro for 10 seconds" (like penny for your thoughts) is very sweet.
Alice Shen
Super Reviewer
Priceless is one heck of a delightful gem. It is playful, cheeky, and boasts excellent chemistry between its leads, which is crucial to pull off a French romantic comedy so dependent on their banter and interaction. The cast was well acted, the relationships kept me at the edge of my seat as there were always suspense and thrills with every single relationship and this includes the spotlight characters. Every actor's facial expressions, not outcasting the supporting roles were so well acted that every one had me guessing, worrying the conditions of the relationships every second. I liked sexy Audrey Tatou's acting as a hot and young gold digger (foxy whistle). Her range of facial expressions alone is joyful to watch.
Dean McKenna
Super Reviewer
Charming, enjoyable, cute...made me smile. A romantic comedy with a few twists. Quite a few things that I thought would be predictable in this romantic comedy, turned out the other way. Both leads are charming, and they draw you in. The gorgeous scenery does not hurt either.
Cynthia S.
Super Reviewer
Priceless Quotes
There are no approved quotes yet for this movie.