Prick Up Your Ears
(1987)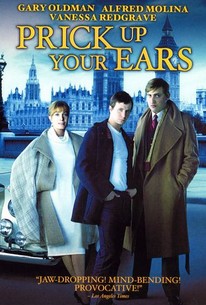 Prick Up Your Ears Photos
Movie Info
This unadorned biography of playwright Joe Orton (Gary Oldman) charts his bawdy, dangerous relationships. Alfred Molina plays Orton's brutish lover, Kenneth Halliwell, a pathetic figure who becomes horrific and then tragic before the film is over. The hilarity of scenes from such Orton plays as "Loot" and "What the Butler Saw" is evenly balanced by the bleakness of the playwright's tormented (and tormenting) off-stage existence, which ended suddenly at age 34 with half a dozen blows to the head from a hammer. Prick Up Your Ears is based on the book by theater critic John Lahr, who is played in the film by Wallace Shawn.
News & Interviews for Prick Up Your Ears
Critic Reviews for Prick Up Your Ears
Audience Reviews for Prick Up Your Ears
½
I felt the film could have explored more of the brief career of Joe Orton because the film tends to brush over those parts a bit. However the performances of Oldman and Molina are amazing. Its too bad the film was released in 1987, because if it was done now I think the content wouldn't have made people ignore it.
Alec Barniskis
Super Reviewer
½
Good little film about the life of Joe Orton. Alfred Molina is great as his lover Kenneth Halliwell. Plus an excellent script by Alan Bennet.
½
[font=Century Gothic][color=darkred]"Revengers Tragedy" is a movie based on the 17th century play by Thomas Middleton. In this version, it is updated to Liverpool in the near future where Vendici(Christopher Eccleston) is returning after a period of absence. He is back to swear vengeance against The Duke(Derek Jacobi, who does not have a lot to do), after he killed Vendici's bride in retaliation for her not wanting to have sex with him.(A good deal of this movie is taken up with men defending the honor of women. I can understand this happening in the 17th century but it's not likely for the present or anytime in the near future.) Other faults include the movie missing chances to have anything to say about 1) the nature of revenge and 2) the class structure.(The Duke is evil but Lord Antonio seems like a pretty alright guy.) But it is imaginatively staged with computer effects and is well acted especially by Christopher Eccleston and Eddie Izzard.[/color][/font] [font=Century Gothic][color=#8b0000][/color][/font] [font=Century Gothic][color=darkslateblue]"Prick Up Your Ears" is based on the lives and tempestual relationship of playwright Joe Orton(Gary Oldman) and Kenneth Halliwell(Alfred Molina). Orton's role in life seemed to be wreaking playful havoc in the straitlaced society of 50's and 60's Britain, from defacing library books to anonymous sex in lavatories. The movie is witty and engaging. It gives great insight into the characters and their love for each other. Both Oldman and Molina do a great job. And it's a joy watching Wallace Shawn and Vanessa Redgrave act together.[/color][/font] [font=Century Gothic][color=darkslateblue][/color][/font] [font=Century Gothic][color=darkslateblue](Very strange literary note: Alfred Molina invokes T.S. Eliot in "Prick Up Your Ears." He would do so again in "Spider Man 2.") [/color][/font]
Prick Up Your Ears Quotes
| | |
| --- | --- |
| Joe Orton: | Joe Orton: I always wanted to be an orphan. I could have, if it wasn't for my parents. |
| Joe Orton: | I always wanted to be an orphan. I could have, if it wasn't for my parents. |
| | |
| --- | --- |
| Peggy Ramsay: | Ken was the first wife. He did all the work and the waiting and then... |
| John Lahr: | Well, first wives don't usually beat their husbands' heads in. |
| Peggy Ramsay: | No. Though why I can't think. |
| John Lahr: | So what does that make you? The second wife? |
| Peggy Ramsay: | Better than that, dear. The widow. |