Pride and Glory
(2008)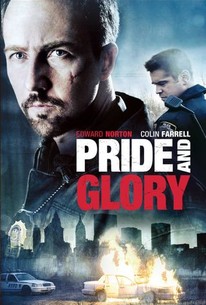 TOMATOMETER
AUDIENCE SCORE
Critic Consensus: Formulaic in its plotting and cliched in its dialogue, Pride and Glory does little to distinguish itself from other police procedurals.
Movie Info
Director Gavin O'Connor collaborates with Narc director/screenwriter Joe Carnahan on this family-focused police drama concerning an honest homicide detective (Edward Norton) assigned to investigate the precinct run by his potentially crooked older brother (Noah Emmerich). As the investigation begins to reveal some troubling facts about the precinct, it gradually becomes apparent that the policeman who is also the older brother's best friend (Colin Farrell) may be the man orchestrating many of the suspected crimes. ~ Jason Buchanan, Rovi
Critic Reviews for Pride and Glory
Audience Reviews for Pride and Glory
½
Stinks of desperation, and a particular kind: wishing it were one of the many better movies in this genre. This film is effectively a knock-off of everything from In the Heat of the Night to Training Day, or The Departed, or even We Own the Night: good brother/bad brother, good cop/bad cop, whole families on the force. The other place this film steals from is Dennis Lehane: it felt like a poor cousin of Clint Eastwood's Mystic River or even Ben Affleck's Gone Baby Gone. Edward Norton has long been one of my favourite actors, but since the turn of the century, he's chosen increasingly worse projects. A shame, because he's pretty good in this, and so is Colin Farrell, though he's a bit too Irish-sounding in some scenes. The movie could easily have been a half hour shorter: there are too many balls in the air to juggle (a sister dying of cancer is a good motivator, but I don't think we need to see so much of her story), and the writing is brutal, watery exposition, laying bare every character's every motivation and draining most of the tension out of what should have been a gritty, realistic film. I've seen first-hand that Washington Heights can be a scary place, and the way it looks on-screen is to the film's credit. Unfortunately, the rest of the work falls flat, until Sage Francis's song over the opening credits, which actually hammers home a metaphor from earlier about a leaky boat. Too bad that most people won't hear this song, having turned the movie off midway. I kind of wish that I had.
Daniel Perry
Super Reviewer
½
There's good, gritty filmmaking on display here and there are moments reminiscent of some of the genre's greats, but "Pride and Glory" gets completely bogged down by a muddy screenplay that kicks off to a great start, but soon becomes more and more confused, tedious, and in the end... generic. The performances and direction hint at a better movie, but in the end that just makes this deeply flawed effort all the more disappointing.
½
A good cop drama about a family in the force, thrown into an awkward position when a case exposes some dirty cops from their precinct. A very enjoyable film, with a well assembled cast. Might be a little confusing at the start as to who is bad and who isn't though. It doesn't have a great deal of action but it's still a good story well told.
Pride and Glory Quotes
There are no approved quotes yet for this movie.