Primal
(2010)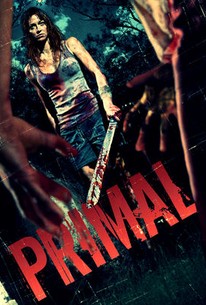 Movie Info
A group of friends venture into the wilds of Australia to study an ancient rock painting, and comes face to face with an ancient evil when one of them experiences a terrifying transformation. The excursion was going great until Mel decided to go skinny-dipping in a nearby basin, and emerges bloodied and confused. Later, when Mel starts to sprout razor sharp teeth and appears to turn rabid, her friends become the prey in a vicious, bloody hunt. Before long yet another one of them begins showing signs of infection, prompting the rest of the group to fight for their lives with everything they've got. Retreating into a cave as a last, desperate measure, the remaining survivors discover that the mysterious painting they came to study could hold the secret to the horrifying curse.
Critic Reviews for Primal
Audience Reviews for Primal
½
A good time had by all!!! I have to say that I didn't hate it. I watched it all, and found the creatures mighty interesting...Not a great movie, but entertaining enough for me, I guess.
Cynthia S.
Super Reviewer
In the depths of the Australian Outback a group goes searching for ancient cave paintings only to find much more than they bargained for ... Look for some suspenseful moments and a heap o'gore in this not original but still effective horror outing.
Kevin M. Williams
Super Reviewer
½
A not bad straight to DVD infection type horror. It has some funny moments, not always intentionally, along with some gore and well exploited story line. It's not great, but more than watchable if you're a horror fan.
Primal Quotes
There are no approved quotes yet for this movie.