The Prime Gig
(2000)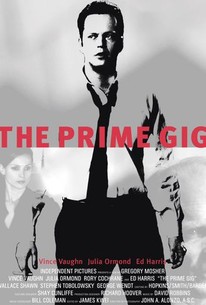 Movie Info
Vince Vaughn stars in this drama as Pendleton "Penny" Wise, a gifted telemarketer who can sell almost anything over the phone. He's making a good living doing phone sales for Mick (Stephen Tobolowsky), until Mick's operation goes bust without enough funds to pay Penny or his co-workers Archie (George Wendt) and Gene (Wallace Shawn). Suddenly in dire financial straits, Penny is approached by Caitlin Carlson (Julia Ormond), who is recruiting telephone salesmen for Kelly Grant (Ed Harris). Grant is a legend in the telemarketing industry, but not always for positive reasons; one of his previous operations landed him in jail, and Penny isn't sure if Grant's latest scheme -- selling shares in a gold mine -- is on the level. Grant assures Penny that his new operation is legit, and even gives him a tour of the mining facilities; Penny signs on, though he still has his doubts. Soon Penny is outpacing his fellow sales people; he receives healthy bonus checks from Grant and has also become involved with Carlson; but he has a funny feeling that the good times can't last forever. The Prime Gig was the first feature film from successful theatrical director Gregory Mosher.
Critic Reviews for The Prime Gig
Audience Reviews for The Prime Gig
If you are a Vince Vaughn fan like I'am,then its worth a look, otherwise, avoid this movie.
The Prime Gig Quotes
There are no approved quotes yet for this movie.