The Prime of Miss Jean Brodie
(1969)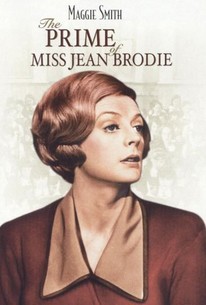 The Prime of Miss Jean Brodie Photos
Movie Info
It is the thirties and Jean Brodie, a teacher in her prime, takes in her new class at the Marcia Blaine School for Girls in Edinburgh, Scotland. She gathers her girls around, clearly picks her favorites and lets them know that they are the "crème de la crème." While she is ostensibly their teacher, tasked with teaching them history and literature, she instead teaches them of life, or so she thinks.
Critic Reviews for The Prime of Miss Jean Brodie
Audience Reviews for The Prime of Miss Jean Brodie
I hope Maggie Smith isn't crestfallen to have me say "wow, I didn't realize she WAS so beautiful," but she was definitely a beauty in this movie. Not that she isn't now, but there are no qualifiers on the younger her. Her acting and sheer presence carried the movie which was rather ruderless--although I guess we were waiting to see when she would get the az and I loved hearing everyone's Scottish brogues....mai leetle gels. Indeed!
Bathsheba Monk
Super Reviewer
A tyrannical but occasionally charming teacher indoctrinates her students at a boarding school. This is a profoundly interesting film. The educator initially appears to be of the "nurturing love" variety, but as we get to know Jean Brodie, we realize that her support of Mussolini and Franco isn't just the absent mutterings of a naive teacher but the cornerstone of her pedagogy. As my colleague explained, after we watch films like Dead Poets Society we think, "If only those stuffy administrators would leave geniuses alone to genius-ify their students ..." But after we watch films like The Prime of Miss Jean Brodie, we think, "For God's sake, don't leave teachers alone with students." Maggie Smith's almost irresistible charm makes our introduction to Brodie smooth, but her phenomenal characterization make Brodie more interesting, more tragic, and more frightening as we get to know her. If ever there was a performance that deserved an Oscar, this is it. The supporting performance by Pamela Franklin as Brodie's one disloyal charge is also excellent, but the supporting work by the male actors leaves something to be desired as they are often stale cliches. Overall, this is a must-see in the genre of educator films, and Maggie Smith makes it quite an enjoyable time.
Jim Hunter
Super Reviewer
½
It's been many years since I've seen this movie starring Dame Maggie Smith, who won an Oscar for Best Actress in the titular role. I'm reminded once again of how powerful an acting force she is, how amazingly all encompassing and robust she is in delivery, in expression, in gesture. A consummate acting professional is every sense.
If you only know Smith from her more recent supporting work in the Harry Potter series, you must seek out some of her earlier work to understand just how stunning a screen presence she is.
Here, as the aging, unwed teacher, shaping her students according to her passionately insular mindset, Smith is staggering in her determined, although blinded, pursuit of "true" education. When her high-minded yet sadly naive and idiosyncratic curricular bent leads to a student's unfortunate death, she must face the truth of her shortcomings in a world far more dangerous than she could ever bring herself to realize. Offbeat and perhaps harmful though her life lessons may be, you cannot help but admire Miss Brodie's iron-willed dedication to teaching them, her absolute conviction of the necessity of peculiarly shaping young, susceptible minds, hearts, and spirits.
Maggie Smith is a living treasure who must be cherished for every appearance she makes on screen.
Lanning : )
Super Reviewer
The Prime of Miss Jean Brodie Quotes
| | |
| --- | --- |
| Teddy Lloyd: | My Church tells me to go forth and multiply. |
| Jean Brodie: | I doubt if your Church has the same definition of going forth as you do. |