The Prince of Egypt
(1998)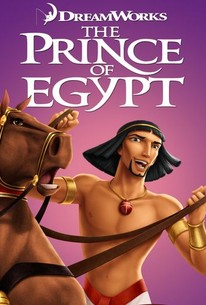 TOMATOMETER
AUDIENCE SCORE
Critic Consensus: The Prince of Egypt's stunning visuals and first-rate voice cast more than compensate for the fact that it's better crafted than it is emotionally involving.
The Prince of Egypt Videos
The Prince of Egypt Photos
Movie Info
"My son, I have nothing I can give, but this chance that you may live." With these words, Yocheved, a Hebrew mother, places her infant son in a basket and sets him adrift on the Nile River. His sister Miriam follows him along the riverbank to ensure its safety. After a perilous journey, the basket floats near the royal palace, where it is spotted by the Queen. As she approaches the basket with her young son nearby, she marvels at the beautiful infant boy inside. She names the baby Moses and adopts him as her own. Based on the 'Book of Exodus' in the Bible, this is the story of Moses.
Critic Reviews for The Prince of Egypt
Audience Reviews for The Prince of Egypt
½
The Prince of Egypt has a lot going for it, first and foremost, stunning distinctive art direction and animation. It also has excellent voice performances, solid songs, and of course an iconic story. BUT this slice of biblical iconography is almost insurmountably difficult to pull off, both in avoiding religious offence and making a film that will appeal to kids (and their worried parents) with all the death and wrathful messages contained in its plot points. Katzenberg and his vast team pulled it off (I rescreened it this Passover with a room with half adults and half kids) and it held everyone's attention throughout. If there is anything disappointing about it, it's the extreme care taken not to offend, resulting in a film that can leave a bland taste at many pivotal moments. To its credit, it's not remotely triumphalist (like most Haggadahs) and portrays all its Egyptian antogonists as sympathetic human beings, caught in an inexorable grand design. The story does borrow an non-bibilcal embellishment from the DeMille epic, which is making Moses and Ramses 'brothers' who are torn apart by their adversarial roles. This choice provides the thurst of most of the drama in the story, so that we relate to the story on a basic human level. The script also takes a big liberty, revealing Moses' Hebrew roots much later than in the bible (in early adulthood), causing a much more wrenching decision and reaction than if he were a child, as in the orgiinal story. As for the voice actors, Ralph Fiennes gives the most complex and indelible performance as the unfortunate Pharoah who is caught in a tragic conundrum with his daddy issues and his tragic, fated role. Jeff Goldblum amusingly plays Aaron as a whiny, often spineless brother, and Sandra Bullock gives a sassy sincerity to sister Miriam. Steve Martin and Martin Short get a few chuckles as the comic relief as a pair of pompuous pagan priests, but the film holds back the yucks so they don't overwhelm the serious intent of the bigger enterprise. Makes sense, but it does feel like a wasted opportunity. When the film was released, I was unimpressed by Val Kilmer's decidedly mortal and apparently colorless take on Moses (and God!). He's low key and very inwardly tortured, but upon further screenings, Kilmer's take is apt. Interestingly, MOSES is the audience's surrogate in the story, we experience the story through his emotions and his revelations. As for his 'voice of god', Kilmer makes no attempt to take on another voice, so God's words appear to be expressed directly on Moses' brain - as his concience. This is an effective strategy and is not as jarring as a big booming basso 'GOD' voice as in Demille's Ten Commandments. I am a fan of the Stephen Schwartz songs, they are tuneful and advance the plot nicely. Schwartz is a unappreciated talent, and has written a bunch of hit Broadway shows (Godspell, Wicked) and animated movie tunes that will be long remembered both for earworm catchy melodies and deft lyrics. That said, as evidenced by the Whitney/Mariah duet of 'When You Believe' the songs have the dated melisma style of nineties Disney style pop (a la Mencken) and their production style is already starting to sound dated. I should also mention I appreciate the original Hebrew, right out of the bible, retained in the English version, especially during the song of the sea at the film's climax, they are an fitting and reverent way to give honor to this deeply spiritual moment. As for the plagues and the gore, they're handled with taste and creativity. The execution of the first born scene is brilliant, and doesn't skirt the point. There's no angel of death, but a ghostlike travelling light. An Egytian child goes in the doorway, out of frame, the light passes through him, then we hear his body drop and his lifeless hand flops into the shot. It's an unforgettable moment for what it doesn't show. The main reason to see P of E is the spectacular animation, with stunning lighting and colour effects inspired by Egypt itself and a distinctive, psuedo-Modigliani style line drawing effect on the human characters that gives the film a pleasing and majestic look and feel. Despite its flaws and shortcomings, it's hard to imagine a more successful take on a pivotal, primal story that means so much to so many. The delicate balance of all the various senistive aspects of this challenge has been met. Highly recommended.
Josh Morris
Super Reviewer
An amazingly accurate portrayal of the Biblical story of Moses and the Pharoah, all played out in stunning animation. Although I feel it is a little too long for children to fully appreciate, as someone with a keen interest (although no belief) in this arena I found it compelling to watch. We see Moses literally go from the baby in the bullrushes to the hero in the promised lands, without ever once remembering that it is the same boring story you have heard a million times through out your life. It is refreshing and revitalising and if it does anything, puts a little more credibility into faith. Moses - the first superhero.
Unknown Hobo
Super Reviewer
½
Moses was not called by this name in Quran. He was called Musa. The song at the beginning was mind blowing. It was very touching. I did liked the cartoon a bit.
Dead Angel
Super Reviewer
The Prince of Egypt Quotes
| | |
| --- | --- |
| Rameses: | Why can't things go back to the way they were? |
| Moses / God: | Because no kingdom should built on the backs of slaves. |
| | |
| --- | --- |
| Tzipporah: | Look. Look at your people, Moses. They are free. |
| | |
| --- | --- |
| Miriam: | Grow, baby brother, and come back someday. Come and deliver us, too. |
| | |
| --- | --- |
| Moses / God: | What do you want with me? |
| Moses / God: | I have seen the oppression of my people in Egypt and have heard their cry. So I have come down to deliver them out of slavery and bring them to a good land; a land flowing with milk and honey. And so onto Pharaoh I shall send you. |
| Moses / God: | Me? Who am I to lead these people? They'll never believe me. They won't even listen. |
| Moses / God: | I shall teach you what to say. *echoes* Let my people go! |
| Moses / God: | But I was their enemy. I was the Prince of Egypt, the son of the man who slaughtered their children. You-You've chosen the wrong messenger. H-How can I even speak to these people? |
| Moses / God: | *with anger* Who made man's power? Who made the deaf, the mute, the seeing and the blind? Was it not I? Now go! *soothing* Oh, Moses. I shall be with you when you go to the king of Egypt, but Pharaoh will not listen. So I will stretch out my hand and smite Egypt with all my wonders. Take the staff in your hand Moses. With it, you shall do my wonders. I shall be with you, Moses. Moses. Moses. |