Princess
(2006)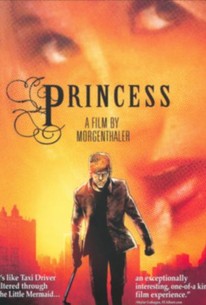 Movie Info
The 32-year-old clergyman August returns home from years of missionary work abroad because of the death of his sister Christina, who--after going from greatness to the gutter as the famous porno star "The Princess"--has finally died of drug abuse. She has left her five year-old daughter Mia with Karen, a prostitute. August pays them a visit to bring Mia home with him and become her guardian. Burdened by sorrow and guilt, he decides to avenge Christina's death and brings Mia along on a crusade to clear his sister's name of pornographic connotations. The mission escalates into a brutal and violent rout as August attempts desperately to protect the only thing he holds dear--namely Mia--forcing him to make a fateful decision.
Critic Reviews for Princess
Audience Reviews for Princess
Audacious, original mix of live action and anime to tell a disturbing tale of corrupted youth.
Gordon Anderson
Super Reviewer
½
Brilliant! Reminiscent of Bakshi's early work, this is one great vigilante film. The animation really works, adding a cartoony feel to a very grim and disturbing story. Choosing the "villain" to be the porn industry was another stroke of genius. If this doesn't make you feel a tad guilty the next time you decide to surf the net for that "special occasion" nothing will. Great stuff.
Christopher Brown
Super Reviewer
Princess is a violent revenge thriller about a man's journey to avenge her sister by destroying all pornography and people involved with the production of it. Combined with some animation and some live action, Princess is an interesting tale about the dark side of seemingly normal Denmark and redemption, August's role was absolutely perfect for Lindhardt. Although I do enjoy the plot, I can't help but dislike the ugly animation and having a child along side the protagonist constantly annoying him. Princess is definitely not an easy film to watch, but if you like to see something different (Or in my case, Thure Lindhardt) then his is definitely a film for you
Sylvester Kuo
Super Reviewer
Princess Quotes
There are no approved quotes yet for this movie.