The Princess Bride
(1987)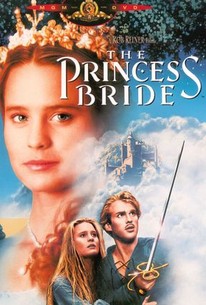 TOMATOMETER
AUDIENCE SCORE
Critic Consensus: A delightfully postmodern fairy tale, The Princess Bride is a deft, intelligent mix of swashbuckling, romance, and comedy that takes an age-old damsel-in-distress story and makes it fresh.
The Princess Bride Videos
The Princess Bride Photos
Movie Info
Robin Wright and Cary Elwes star in this fairytale adventure about a beautiful princess and the gallant hero who rescues her from an evil villain. Directed by Rob Reiner, it's an enchanting classic the whole family will love!
News & Interviews for The Princess Bride
Critic Reviews for The Princess Bride
Audience Reviews for The Princess Bride
Very few movies stand the test of time. Films like Casablanca or Citizen Kane will be remembered as some of the best films of their time, while films like The Avengers or Avatar will be remembered as the biggest event of their corresponding year. While The Princess Bride did not break any box office records or win any big awards (aside from best original song at the Oscars), many film fans across the world claim this to be one of their favourite films of all time. Not only does it do wonders for the fantasy genre, but this film truly was a revelation for its time. Yes, many aspects can feel dated when looking back on this film, but the story is still accessible to all ages nowadays, which is really remarkable on its own. Here is why The Princess Bride still holds up today. Films have been told this way for many years, having a the main story being told by a wise man or woman to a young child. In this case, a boy is home sick and his grandfather comes over to read him one of his favourite stories, The Princess Bride. What works so well is the fact that it sort of becomes meta. Kids normally don't like watching adult romances, which is why it turns this kid off from the story at first. Growing to like it as the story progresses and the swashbuckling and killing portion arises, it makes the story much more accessible to all ages. The reveal at the end of this film is truly what makes it such a great story as a whole, but does the story within in the story hold up today? While I am actually new to this film sadly, it doesn't hold any nostalgia factor for me personally. I had to watch it with fresh eyes and respect it for its time. Luckily that wasn't very hard, due to the fun nature of its story. This film will always be nostalgic for fans, because the way the film is told makes it seem like it could've been released at any point in history. That being said, there are undeniably some pretty cheesy fight sequences and the set is very visible. When backflips are taken, the stuntmen clearly land on bags under the set. Looking back on the film, that is not necessarily a nitpick, because it's told through the way this kid is imagining the story. His mind would create a cheesier perspective, which is why it works so well. There are quite a few instances throughout this film when the performances seem very forced, but then again, it all comes back to the fact that it's just a story. It is later revealed to be more than a story, but that is not to be thought about during the exploration of the story at hand. I found myself laughing and finding myself completely engaged with this film throughout the entire duration. At a mere 98 minutes, The Princess Bride goes by fairly quick and is easily recommendable. If you are not a film fan or didn't happen to grow up with it, I can't see too many of you really enjoying it. The Princess Bride benefits from a very light-hearted touch by director Rob Reiner. The script and his translation to screen was easily the best portion of this film. Each core character, side character, and even the characters on-screen for mere seconds all have a purpose. This is a film that's worthy of every bit of praise it has received over the years. It's an absolute blast still to this day, but I wouldn't go as far as calling it a masterpiece like many people do. It's a very fun adventure to take every now and then, but I feel that constant viewings may harm the picture overall. I may be overthinking that statement, but I feel that certain demographics may grow weary. The Princess Bride is a great film that hasn't lost a bit of its charm over the years. I still highly recommend it.
Rob Reiner creates a cult-hit with slapstick-ish humor and an enchanting charm. The Princess Bride has solid action, Reiner's signature style of narrative along with a number of witty gags that may be senseless at times but overall grows with the story, making for a memorable rom-com unlike any other before or after. 4/5
Eugene Bernabe
Super Reviewer
An enchanting storybook love story that has gained the status of cult movie along the years and appeals to both youngsters and adults alike thanks to its delicious blend of exciting romantic adventure and hilarious comedy - and made even more enjoyable by a great cast.
Carlos Magalhães
Super Reviewer
The Princess Bride Quotes
| | |
| --- | --- |
| Westley: | There are a shortage of perfect breast in the world it be a pity to damage yours. |
| | |
| --- | --- |
| Vizzini: | I suppose you think you're brave, don't you? |
| Buttercup the Princess Bride: | Only compared to some. |
| | |
| --- | --- |
| Inigo Montoya: | Hey Fezzik, you did something right. |
| Fezzik: | I won't let it go to my head. |
| | |
| --- | --- |
| Inigo Montoya: | Hello. My name is Inigo Montoya. You killed my father. Prepare to die. |