Princess Mononoke (Mononoke-hime)
(1999)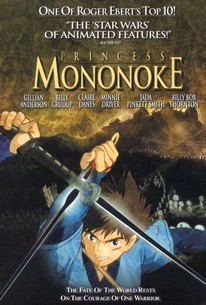 Princess Mononoke (Mononoke-hime) Photos
Movie Info
Directed by renowned animator Hayao Miyazaki, this anime has broken a number of box office records in its native Japan. Essentially a statement on the ecological devastation brought on by human advancement, the story follows the battle between Princess Mononoke and a mining village.
News & Interviews for Princess Mononoke (Mononoke-hime)
Critic Reviews for Princess Mononoke (Mononoke-hime)
Audience Reviews for Princess Mononoke (Mononoke-hime)
½
Miyazaki returns to the ecological message that he explored in Nausicaä and elevates it to an epic level with this splendid story of man vs. nature, and more wonderful than its stunning visuals and score is to see so many complex characters who can't be defined as heroes or villains.
Carlos Magalhães
Super Reviewer
Hayao Miyazaki's Princess Mononoke lays out the gods and the demons.
There is an interesting story to tell and it does have a lot going for it. The uniqueness of the plot details and the likability of some of the characters hold interest; however, the film slows down in places and the finale was overly long leaving a run time easily over 2 hours.
The animation of the characters and even the violence, which is more adult oriented, are nicely drawn. Other elements, including the gods, are more abstract and weird, but don't feel out of place in the grand scheme of things.
Yoji Matsuda and Yuriko Ishida lead a Japanese cast that provide satisfying voice work for each of their respective characters. No problems in this department.
Princess Mononoke does a lot of things well. It's the drawn out story that is the biggest disappointment.
A much more action-oriented Hayao Miyazaki film that boasts intoxicating animation that beautifully combines traditional with computer-generated and a suitably complex and epic plot. Also one of the more violent Studio Ghibli flicks (far from a blood bath but the film's violence justifies it's PG-13 rating), so it may not be suitable for younger children. Despite it's slightly bloated runtime, this is a very well-rounded eco-themed fantasy epic.
Christopher Heim
Super Reviewer
Princess Mononoke (Mononoke-hime) Quotes
| | |
| --- | --- |
| Jiko [English Version]: | So you say you're under a curse? So what? So's the whole damn world. |
| | |
| --- | --- |
| Jiko [English Version]: | So you say you're under a curse? So what? So's the whole damn world. |
| | |
| --- | --- |
| Oracle: | You can not alter your fate, my prince, however you can rise to meet it if you choose. |
| | |
| --- | --- |
| Lady Eboshi [English Version]: | What exactly are you here for? |
| Ashitaka [English Version]: | To see with eyes unclouded by hate. |