La prise de pouvoir par Louis XIV (The Taking of Power by Louis XIV)(The Rise of Louis XIV)
(1970)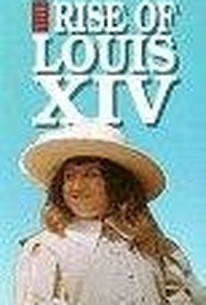 La prise de pouvoir par Louis XIV (The Taking of Power by Louis XIV)(The Rise of Louis XIV) Photos
Movie Info
Given the opportunity to turn out a Sacha Guitry-style spectacle, director Roberto Rossellini charts his own neorealist course for The Rise of Louis XIV. It's as if a documentary cameraman was let loose in the royal court of the 17th Century Sun King, here played by Jean-Marie Patte. The use of unfamiliar actors in the major roles adds to the film's realism. Though shown to be the product of a decadent lifestyle, Louis is depicted as being trapped by his royalty, forced in spite of himself to be a raconteur and trendsetter. The Rise of Louis XIV was one of several innovative films made for French television by the Italian Rossellini. ~ Hal Erickson, Rovi
Critic Reviews for La prise de pouvoir par Louis XIV (The Taking of Power by Louis XIV)(The Rise of Louis XIV)
Audience Reviews for La prise de pouvoir par Louis XIV (The Taking of Power by Louis XIV)(The Rise of Louis XIV)
½
rossellini revolutionizes history
Stella Dallas
Super Reviewer
½
Directed by Roberto Rossellini, the opulent "The Taking of Power by Louis XIV" starts in 1661 with Cardinal Mazarin(Silvagni), the prime minister of France, on his deathbed. Not knowing any better, the doctors repeatedly bleed him, which probably kills him quicker.(I wonder if anybody burned in hell for this.) To everybody's surprise, King Louis XIV(Jean-Marie Patte) steps into the breach and takes the reins of power. The Queen Mother(Katharina Renn) certainly did not think he had it in him, seeing him only as a playboy monarch, preferring frolicking with his mistresses and hunting to anything serious. But this is shortly after the Frondes and King Charles I losing his head across the English Channel, so drastic measures had to be taken to save the monarchy. But did Louis also sow the seeds for its destruction? It is probably not what he is thinking about when he has the royal banquet by himself at the end of the movie. What little I know of French history of this time period comes from Richard Lester's musketeer movies.(In "The Taking of Power by Louis XIV," D'Artagnan(Maurice Barrier) has a cameo but I doubt it is supposed to be the same person.) So, I assumed that the French king was always all powerful but history is more complicated than that. And I would have probably known this if my tenth grade history teacher had not shown videos all the time, thinking we were all going to forget what he taught us anyway. But sometimes, this stuff comes in handy.
La prise de pouvoir par Louis XIV (The Taking of Power by Louis XIV)(The Rise of Louis XIV) Quotes
There are no approved quotes yet for this movie.