Prison Shadows
(1936)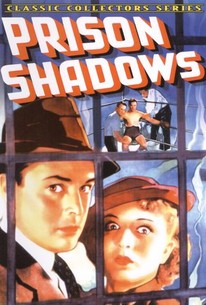 AUDIENCE SCORE
Critic Consensus: No consensus yet.
Movie Info
After serving five years in prison for killing an opponent a newly released prizefighter attempts to make a comeback in this drama. Unfortunately, his new opponent also dies. In the end, it is discovered that a gambling ring has been engineering the deaths and that the ex-con is the next on their list.
Critic Reviews for Prison Shadows
There are no critic reviews yet for Prison Shadows. Keep checking Rotten Tomatoes for updates!
Audience Reviews for Prison Shadows
From The Mill Creek 50 Movie Dark Crime Collection. ou really have to put your brain on auto pilot to watch this flick, because not a whole lot of it makes any sense. I can see where you could come up with a boxing story with the basic premise of fixing the big match by committing murder, but why in the world would you go to the trouble of killing a couple of palookas along the way on the outside chance of getting to Madison Square Garden? The movie is filled with a lot of 'Whys?', and I keep asking myself why they were in there. Like this - did I hear this right? Claire (Lucille Lund) explains she can't marry Gene Harris (Eddie Nugent) for seven years because he just got out on parole. What?! Where's that in the marriage rule book? Claire just might be the most unbelievable character in the story; can you imagine someone like her hooking up with Monte Blue as fight manager Bert? You would think he'd be the first guy she would want to take out after the first amorous advance. I'm convinced that B movie writers of the era regularly failed to put their stories up to a sniff test for even a hint of believability. Chinese herb poison in the towel that absorbs into the bloodstream resulting in death? If that were the case, Charlie Chan would have come across it in one of his flicks for sure. I can sometimes get long winded panning films like this but I'll keep this one mercifully short. I'll just close on one more element that defies explanation. Why have Corky the Dog portray Babe the Dog. Why not just let him keep his own name? And why not have HIS picture on the little doggy grave at the end of the picture? Sorry, I said one more element. I couldn't help it. 2 Stars 2-25-14
Bruce Bruce
Super Reviewer
Prison Shadows Quotes
There are no approved quotes yet for this movie.