The Private Eyes
(1981)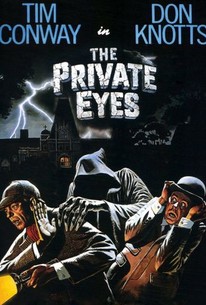 AUDIENCE SCORE
Critic Consensus: No consensus yet.
Movie Info
Tim Conway and Don Knotts play two bumbling Scotland Yard investigators out to solve a double murder in this silly send-up of vintage, "old dark house" films. The intrepid Winship (Knotts) and his assistant Tart (Conway) arrive at a Gothic mansion occupied by the grieving heiress Phyllis (Tricia Noble), whose parents have just perished under suspicious circumstances. Meanwhile, a quirky crew of servants ranging from a butler with serious rage issues to a samurai warrior cook and busty maid with a bubbly personality all display likely motives for murder. As a mysterious, black-cloaked killer methodically dispatches with the help, the inept investigators search for clues while being watched by paintings with moving eyes, exploring a frightful a torture chamber, and attempting to communicate with their superiors at Scotland Yard via carrier pigeons who never seem to reach their intended destination.
Critic Reviews for The Private Eyes
Audience Reviews for The Private Eyes
A ridiculous little mystery comedy staring two master of ridiculous movies. If you enjoy their humor you'll like this more than I did, but if not, skip it. The movie is incredibly cliched. I knew who dun it when they got their first clue.
Now THIS is what I'm talking about. THIS is how you do a spoof. Unlike today, where "spoof" movies copy shots from popular movies and attempt to make a joke of them, this movie spoofs an entire genre by honoring it. Don Knotts and Tim Conway were a great comedy duo. Knotts was forever the straight man, and Conway is one of the great improvisational comedians the world has ever known. Here they play two bumbling detectives investigating the murders of a rich English couple. We get the usual motley collection of suspects, the creepy castle setting, secret passages, trap doors, and a mysterious, shadowy figure who may or may not be responsible for everything happening. Not only is the movie funny, but it also provides a genuine mystery. The setting is fantastic, the characters are interesting, and the two lead actors are at the top of their games.
RJ MacReady
Super Reviewer
½
A lot of lost potential here. The poems/clues the murderer/ghost leaves for the detectives are slightly funny. All the jokes are groaners. I might have appreciated the movie more when I was younger. The plot is a mess. Knotts and Conway had partnered in Disney comedies with this type of humor a few times during the 70's. The success of this type of comedy had ended by this decade though.
Byron Brubaker
Super Reviewer
The Private Eyes Quotes
There are no approved quotes yet for this movie.