The Private Life of Sherlock Holmes
(1970)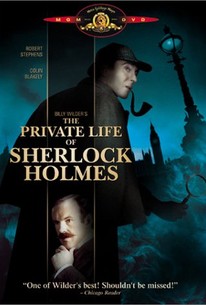 The Private Life of Sherlock Holmes Photos
Movie Info
'Private Life' is both an elegiac evocation of late Victorian England and a boldly modern take on the dark side of the "real" Sherlock Holmes.
Critic Reviews for The Private Life of Sherlock Holmes
Audience Reviews for The Private Life of Sherlock Holmes
There have been many Sherlock Holmes films, but this is one of the best thanks to Wilder and a flawless lead performance by Stephens.
Marcus Woolcott
Super Reviewer
A different take on the myth if Sherlock Holmes. In this he is all too human: a drug addict, a homosexual, and not even too swift as a detective. At least the film is accomplished with talent, but it leaves a disquieting feeling of dissatisfaction seeing a heroic figure fail so many ways. The character one is lead to empathize with the most with loses at the end ... most irregular. Watch at your own peril.
Kevin M. Williams
Super Reviewer
½
Holmes: We all have occasional failures. Fortunately Dr. Watson never writes about mine.  "My private life is my own affair." The Private Life of Sherlock Holmes is a interesting and thoroughly entertaining mystery from the great Billy Wilder. The first half hour is about as much into the private life of Sherlock Holmes as you'll get. The title is a little misleading because this is still a standard Holmes picture. Wilder just added some confusion about Holmes sexuality and the idea that when Holmes is not busy on a case, he likes to indulge in cocaine. After that there is no real difference plot wise, to any other Sherlock Holmes movie, except this better than average. Holmes is bored with no case to take his interest. Then one night a woman arrives at his doorstep. Apparently an attempt was just made on her life, and now she doesn't know much about herself. The next morning she remembers everything. She came to Holmes for him to help her find her husband. This mystery takes us to Scotland and involves a variety of weird things like the Loch Ness monster, midgets and canaries.  The performance by Robert Stephens as Sherlock Holmes is spot on. He portrays the detective brilliantly. Then there's Colin Blakely who is an admirable Dr. Watson, and the iconic Christopher Lee as Sherlock's brother. The plot is pretty cool, with weird occurrences adding to the mystery of the case.  The Private Life of Sherlock Holmes is fun throughout and sporadically funny. Wilder's witty touch is perfect for a Sherlock Holme's film. I was a little disappointed this didn't dive more into the personal life of Holme's, but as a straight detective story, it is a damn good one.
Melvin White
Super Reviewer
The Private Life of Sherlock Holmes Quotes
There are no approved quotes yet for this movie.