Private Resort
(1985)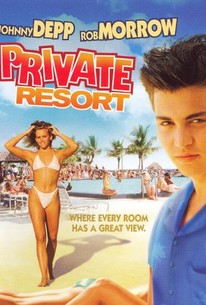 Movie Info
In this adolescent-oriented sex comedy a pair of girl-hungry teens do their best to satiate their appetites at an exclusive Florida hotel. The fun begins when they end up tangling with a jewel thief and snoopy house detective.
Critic Reviews for Private Resort
Audience Reviews for Private Resort
Want to see Johnny Depp's worst movie? Here it is, one of the worst teen comedies of the decade.
Cheesy 80's sex comedy with horrendous perfs. Lots of bikini bods and partial nudity. Lots of crude slapstick. The segment with Andrew Dice Clay is the least cringe worthy.
Byron Brubaker
Super Reviewer
½
If you were to combine Weekend at Bernie's, Caddyshack and Scarface into one movie, you'd have Private Resort. Taken Seriously, it is a terrible movie. The plot has little going for it. There is absolutely no exposition or set up aside from Johnny Depp's voice-over saying that they are going to get laid this weekend. The comedy is terrible, being overtly obvious and dumb. The only thing giving it class is Johnny Depp, but it's not like he's able to save the movie. When you look at it as a B-movie, it's amazing. The stupidity is just so interesting to watch and it can be so flat out weird at times that you can't help but enjoy it. This politically incorrect, sexist, unoriginal teen comedy is so bad that it's good.
Conner Rainwater
Super Reviewer