Private's Progress
(1956)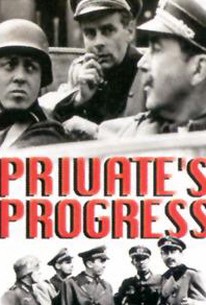 AUDIENCE SCORE
Critic Consensus: No consensus yet.
Movie Info
The Boulting Brothers enjoyed one of their biggest box-office successes of the 1950s with the wry service comedy Private's Progress. Though billed fourth, Ian Carmichael plays the central character, feckless British soldier Stanley Windrush. Interrupting his college education to serve his country, Windrush flunks out of officer's candidate school and is demoted to private. Much of the humor arises from the bookish hero's confrontation with the ruder and cruder side of army life, as represented by rough-hewn fellow private Cox (Richard Attenborough). As Major Hitchcock, Terry-Thomas offers a brilliant parody of the "Mad Dogs and Englishmen" school of military service, while Dennis Price is equally amusing as a nonplussed commanding officer named Tracepurcel (!) Also worth watching is future "Dr. Who" star William Hartnell as a loudmouthed sergeant. Halfway through the film, the plot rears its ugly head as the protagonists become involved with the covert reclamation of art treasures confiscated by the Nazis during WW2.
Critic Reviews for Private's Progress
All Critics (1) | Fresh (1) | Rotten (0)
It's unlikely to aid recruiting in the Old Country but it's shrewdly designed to give audiences everywhere a pretty hilarious time.
Audience Reviews for Private's Progress
This light, military comedy is an early hit from the Boulting brothers ("Brighton Rock," "Twisted Nerve," "The Family Way," "There's a Girl in My Soup," "Heavens Above!"). It may remind contemporary audiences of both "The Phil Silvers Show" (contraband deals and get-rich scheming) and "Stripes" (a misfit stumbles through basic training, then joins a mettle-testing mission involving a quick sneak over enemy lines). And of course, it overlaps with its more famous sequel, "I'm All Right Jack." Peter Sellers is absent from "Private's Progress," but the film does star Ian Carmichael as the same privileged, clumsily apologetic twit seen in "Jack." Multiple other actors also play repeat roles, including Terry-Thomas, Dennis Price, Kenneth Griffith and Richard Attenborough (such a sharp presence, and always so hard to connect with his later persona as a prestigious director). Oddly, the cast also includes an uncredited Christopher Lee in a small part as a German officer. The film could use a better villain -- the camp's ineffectual commanders are so wishy-washy that their dealings with the soldiers are short on comic sparks. The script also has less of the punchy social satire that distinguishes "Heavens Above!" and "I'm All Right Jack," which is unfortunate. It's mostly about gentle laughs and good fun, though a deadpan prologue about military bureaucracy scores some direct hits.
Eric Broome
Super Reviewer
Private's Progress Quotes
There are no approved quotes yet for this movie.