Privilege
(1967)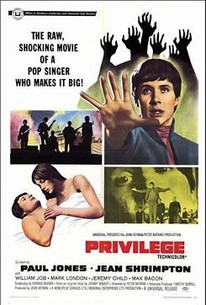 Movie Info
Stephen Shorter (Manfred Mann's Paul Jones) seems like the perfect pop star; he is, however, little more than the puppet and prisoner of a manipulating church and state. What seemed like outlandish speculation in 1967 - the control of the masses through popular culture and celebrity endorsement -- now seems too close for comfort. Still criminally misunderstood, it is time for Watkins' visually stunning film to be fully appreciated.
Critic Reviews for Privilege
Audience Reviews for Privilege
Made in 1967, "Privilege" at first seems to be little more than just a reaction against Beatlemania as it starts with a ticker tape parade for rock star Steven Shorter(Paul Jones) in his home town of Birmingham, England.(If Jones' performance appears to be affectless, it might be on purpose, as the general idea here is to make Shorter look like he is undeserving of all the attention.) That is before a conceptual on-stage performance that puts his mainly female audience in hysterics, with a few looking like they are on the verge of an orgasm. But even at this early stage in his career, director Peter Watkins has bigger fish to fry than just celebrity with this thought-provoking, intelligent and powerful movie that is also the most creatively filmed of his docufictions. Set in the near future, this could also be our present, as the film is prescient about many things including music videos(recalling Shorter's performance on stage), the abomination of reality television(you will never be able to watch a promo for 'American Idol' the same way ever again) and Tony Blair's New Labour. In this world of almost one political party, there is conformity across the board, beginning from the top, and eventually laterally applied at the lower levels of society. The powers that be have co-opted and commodified Shorter, and through him, rebellion, so much that Vanessa(Jean Shrimpton), who has been hired to paint his portrait, is the only person not in awe of him. And whereas Ken Russell saw the rock star as god, Watkins sees religion as just another business to corrupt the rock star.
I'm guessing this is probably one of the earliest examples of a "mocumentary", which is impressive. What is also impressive is how eerily prophetic it is, to spite it's (sometimes) painfully dated moments. A telling look at the making, selling and ultimate distruction of a pop star. It is both campy and tragic. With some very interesting (and over the top) themes and visuals. It is no doubt used as a training film for the "talent" teams at Disney, who seem to think that every child actor needs to have a recording career and every child singer an acting career. And above all else - sell, sell, sell. There is no room for individual creativity, expression, integrity or (heaven forbid) dignity...use them until they are are no longer sellable and them kick them to the curb.
Privilege Quotes
There are no approved quotes yet for this movie.