The Prize Winner of Defiance, Ohio
(2005)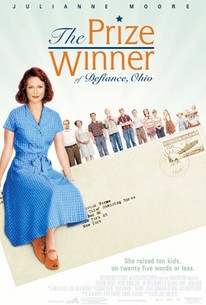 TOMATOMETER
AUDIENCE SCORE
Critic Consensus: Noteworthy for Julianne Moore's performance, Prize Winner is nonetheless a largely indistinct and tentative film that fails to convey the true power of its bittersweet tale.
The Prize Winner of Defiance, Ohio Photos
Movie Info
The true story of one woman's effort to keep her family afloat under difficult circumstances comes to the screen in this bittersweet comedy drama. Evelyn Ryan (Julianne Moore) was a woman of intelligence, talent, and pluck living in the small town of Defiance, OH, in the 1950s. Evelyn was married to Kelly Ryan (Woody Harrelson), a man who gave her ten children but not much else; Kelly had a severe drinking problem, struggled to hold on to a job, and tended to spend his money as soon as he earned it. It was seemingly up to Evelyn to support the family, but with ten kids to look after, taking a job outside the home hardly seemed practical. But the resourceful Evelyn discovered a way to bring some extra money into the household -- at a time when a number of companies held contests to find new advertising jingles for their products, Evelyn had a genius for coming up with slogans and winning contests, and for the better part of a decade Evelyn kept food on the table and a roof over her head by dreaming up jingles, tag lines, and ad headlines and winning contests with her handiwork, often selling the merchandise she won to pay the bills. The Prize Winner of Defiance, Ohio was based on the best-selling memoir by Terry Ryan, who was the sixth of Evelyn Ryan's ten kids.
Critic Reviews for The Prize Winner of Defiance, Ohio
Audience Reviews for The Prize Winner of Defiance, Ohio
½
A rather forgotten film at the box office, and in the annals of history, this adaptation from the book of the same name features some heart tugging moments but overall comes off as tripe. At the box office this film didn't make back all that much from its original budget and it's easy to figure out why when it comes to the story. This film looks at a mother who had to help her home of ten children with her own brilliant mind. The prize winner in the title is alluding to the fact that main character Evelyn Ryan (Moore) spent the bulk of her life winning contests put out by companies in the fifties in order to keep her family from collapsing into ruin thanks to her husband's alcoholic tendencies. The film is intriguing not only for the character's quick mind at thinking up jingles, limericks, and general rhymes for contests, but also for educating the current generation about the ad campaigns of companies in the fifties and the role of the housewife at the time of baby boomers. The reason this doesn't evolve into an Oscar worthy film or even a memorable one, is simply because the film lacks any true drama. Yes, her husband is a blight to the family by drinking away his paycheck and leaving his wife to support them on pure luck, but that doesn't always pay off plot wise. Harrelson is great in the role, but most of the time he comes off as jealous more than anything, and at his patient and intelligent wife at that, who has little control over her own life let alone her immense family. His petty betrayals only make him a victim along with the rest of them, and without any adversity or true villain to the story it becomes one of survival. Again, that would be fine, if there wasn't a climactic ending that the entire film hangs its hat on, and it's obvious what's going to happen, in as formulaic and clichéd an ending as ever. This film is interesting and does feature some great information, but does not correctly build to its conclusion, and doesn't resonate for a reason.
Spencer S.
Super Reviewer
A housewife keeps her family from sinking into bankruptcy by winning ad-writing contests. The main plot line of this film, a productive and almost optimistic response to fifties patriarchal oppression, becomes obvious early on. But Evelyn Ryan's bright-eyed responses to her husband's insecure harangues make it hard to sympathize with her. How long can we scream, "Leave the bastard" at the screen until we give up on her plight? But just when it gets to be oppressive, she says, "Your job is not to make me happy, but to stay away from me when I am." Could there be a more heart-breaking thing for a wife to say to her husband? Julianne Moore's performance was, of course, awful, and she shares the blame with the script for making Evelyn a tiring character. Woody Harrelson doesn't rise to the level of being a malevolent force, but his character has nuances, moments of compassion mixed with his fits of outrage. Overall, I thought there was some things to like about The Prize Winner of Defiance, Ohio - it's an interesting story that has flashes of brillance - but Moore's performance and some structural problems make it ultimately a disappointment.
Jim Hunter
Super Reviewer
The prize Winner of defiance, Ohio Is about Dysfunctional family trying to make ends meet. The father is abusive and has a drink problem that laeve the family with out money. The mother enters contests to money to make end meet. Will the family be able to staying one place or will the have to move? Pros Good acting and plot. Can be funny at times. Cons Could be slow at times. i
erika bruhns
Super Reviewer
The Prize Winner of Defiance, Ohio Quotes
| | |
| --- | --- |
| Evelyn Ryan: | I don't need you to make me happy, Kelly. I just need you to leave me alone when I am. |
| | |
| --- | --- |
| Evelyn Ryan: | Everything is possible. |