Problem Child 2
(1991)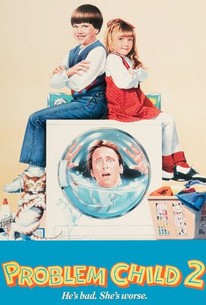 Movie Info
This dubious comedy sequel chronicles the further exploits of a sociopathic, mean-spirited and selfish brat and his father. This time though, the monster boy meets his match with an equally terrifying little girl and together the two cause all kinds of malevolent and lowbrow mischief.
Critic Reviews for Problem Child 2
Audience Reviews for Problem Child 2
Sequel to Problem Child, this film, continues the so called funny exploits of Junior, unfortunately this isn't a funny film. John Ritter can't even save this film, and it's a bad sequel to a bad film. The film lacks anything really engaging to appeal to the viewer. I really didn't get into the film, and quite frankly, I found this film along with the first to be very overrated. This film is garbage that is poorly written, acted and directed. If you're looking for something really funny, you definitely won't find it here. This is filmmaking at its worst. The film has a poorly constructed plot with awful jokes that are not funny. As far as comedy is concerned, this film really doesn't work. This film makes you ask the question, how could this crap be made? This film was bad, unimpressive, boring and pointless. I hated the film, and the actors were not likeable in their parts. This was a film that never should have seen the light of day. Poorly constructed, this is one of those films that never should have been made. The first film was bad, and this is just a poor attempt at cashing on the mediocrity of the first. Avoid this film, and there are far better comedies out there. This is a poor sequel that never should have been made. If you're looking for something funny here, you'll be sadly disappointed. There are no laughs to be found here, and this is just a bad film. I hated the sequel as much as the first film. Avoid it; you'll be glad you did.
Not as good as the first movie, but still pretty funny.
I often forget there was a sequel if that tells you anything.
Tim Salmons
Super Reviewer
Problem Child 2 Quotes
There are no approved quotes yet for this movie.