The Producers
(2005)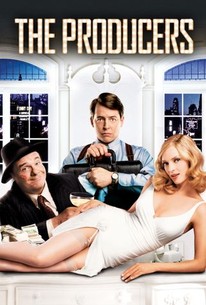 TOMATOMETER
AUDIENCE SCORE
Critic Consensus: Despite the rich source material, The Producers has a stale, stagy feel more suited to the theater than the big screen.
Movie Info
After transforming his first motion picture into a smash Broadway musical, Mel Brooks brings the story of two would-be theatrical moguls turned con men back to the screen in this musical comedy. Max Bialystock (Nathan Lane) was once one of Broadway's most successful producers, but a string of flops has thrown his career into a tailspin, and now he struggles to raise the cash to stage new shows by playing gigolo to lonely old ladies. While going over his books, accountant Leo Bloom (Matthew Broderick) notices that Bialystock raised more money than he spent for one show, and points out that if one raised enough money for a show that closed in one night, you could make more off a flop than a hit. This strikes Bialystock as a brilliant scheme, and he decides to give it a try, persuading Bloom to join him in staging the world's greatest flop. After discovering a truly vile script -- "Springtime for Hitler," a musical set in the Third Reich written by neo-Nazi pigeon fancier Franz Liebkind (Will Ferrell) -- and giving a key role to the secretary Ulla (Uma Thurman), a drop-dead gorgeous blonde with only a tenuous understanding of the English language, Bialystock and Bloom are certain they have the disaster they need for their plan to work. But the scheme unexpectedly goes wrong when "Springtime for Hitler" becomes a "so bad it's good" hit. Mel Brooks co-wrote the screenplay for The Producers as well as producing it, but directorial chores were handed over to Susan Stroman, who also directed the Broadway show; Nathan Lane and Matthew Broderick also repeated their roles from the Broadway production. ~ Mark Deming, Rovi
News & Interviews for The Producers
Critic Reviews for The Producers
Audience Reviews for The Producers
Hmmmmmm so very very tricky to decide here, what can I say...I enjoyed this as a stand alone film on its own, and when not compared to the original. As a stand alone farce its a great piece of comedy but of course it so difficult not to think and look back to the original material. To be honest this is a classic example of a remake that, in terms of the movie, didn't succeed in doing anything other than show you should never try to remake a classic. Of course because of the flick there was a big renewed interest in the forgotten classic and a very popular theatre show, which is all good as its perfect for the theatre in every sense but the actual film is a poor imitation. There are certain parts in this film I loved, mainly anything to do with Nathan Lane who is a superb comedic actor with fantastic skills in facial and physical comedy. Some of his leers and chubby prat falls are brilliant and really compete with Mostel's first performance. On the other hand there are some truly awful moments of...plagiarism basically where the same funny line or sequence has been attempted from the original and it just bombs hard. Some scenes simply cannot be replicated from the genius of Wilder and Mostel. A huge issue with me was the casting of Broderick who is so so so so weak an actor I just don't understand how he gets work. Is it all simply down to 'Ferris Bueller'!!?. Terrible actor and he really shows it here with a dreadful performance that lets the whole film down badly. Sure he can sing a little, move well and he does look the part but he just isn't a strong enough character for comedy, he's too shy and reserved and a bad partner to Lanes terrific greasy comb over sleaze. To be honest some of the casting is poor in this film accept for Lane, Beach and Bart all of which were inspired choices. Thurman and Ferrell were totally out of place and show why it can be a bad decision to cast big names when lesser known folk would work so much better. Also Lovitz could of been used in a better role instead of the extra unnecessary sequence he was in. Where was Dom Deluise that's what I wanna know, the perfect film for him. The film looks fantastic I gotta say, well it basically looks like a stage performance that's just been filmed really. Not a bad thing as the colour and razzle dazzle is all very well directed and comes up peachy on your screen. Lots of musical numbers and extra padding to fill out the length which is again nice but also loses some of the originals charm. The old adage of less is more and this new film really does go overboard when it didn't have to. Obviously the film was meant to be a precursor to the real theatre production (a prequel of sorts to see how it would fare) which is fine but I don't know why they went down the musical route with the film instead of sticking to the better farcical comedic angle. I just felt a lot of the source materials essence was lost trying to craft the film into something else when they still could of done the theatre show and kept this film like the original. Last thoughts are positive for the film as its nice to see musicals back on the big screen looking as lush as this but as a remake its nowhere near as good as its forebearer. Quite a poor copy in places but it does have its highlights which can make you forgive. If your seeing this for the first time then I strongly recommend the original first of course.
Phil Hubbs
Super Reviewer
I knew going in I probably wasn't going to love this. After all, I find Mel Brooks "comedies" to be the lamest, lowest-common-denominator style of comedy, full of unfunny puns and slapstick overacting. But I like musicals, so I thought I might at least get some enjoyment out of it. I should give it a shot. It's even worse than I thought. The first scene with Lane and Broderick, which seems to go on for about half an hour, is agonizing and interminable, I almost turned it off (again - I started watching it once LONG ago and never made it through that scene), but I powered through and kept watching. The movie never got much better. The songs themselves are slightly less awful, but the rest of the film is just too rooted in bad Mel Brooks style. The performances are equally painful, even from some of the otherwise-decent actors. (What the hell happened to you, Matthew Broderick?!?) It's so overdone and exaggerated - fine if you're playing to a large live theater, but in a movie that kind of exaggeration is not needed and just comes across as dumb. One of the worst movies I have ever seen.
Martin Bishop
Super Reviewer
Excellent adaptation of the Broadway show. All the characters are very funny. Shouldn't laugh at the play but just can't help it!
Candy Rose
Super Reviewer
The Producers Quotes
| | |
| --- | --- |
| Mr. Marks: | Bloom, where do you think you're going? You've already had your toilet break. |
| Leopold Bloom: | I'm not going into the toilet. I'm going into show business! And Mr. Marks, I have news for you: I quit! And you're right about one thing. You are a CPA: a Certified Public ASSHOLE! Here's my visor, my Dixon Ticonderoga number 2 pencil, and my big finish! |
| | |
| --- | --- |
| Leopold Bloom: | Thank you very much for smiling. That helped a great deal. |
| Max Bialystock: | Well, you know what they say. Smile and the whole world smiles with you. Ha ha ha (Whispers to Shakespeare bust) This man belongs in a strait jacket! |
| Max Bialystock: | Well, you know what they say. Smile and the whole world smiles with you. Ha ha ha [whispers to Shakespeare bust] This man belongs in a strait jacket! |
| | |
| --- | --- |
| Max Bialystock: | What happened? |
| Ulla: | Tidy up! Make look nice? |
| | |
| --- | --- |
| Hold Me-Touch Me: | ... How about the virgin milkmaid, and the well hung stableboy? |
| Hold Me-Touch Me: | ...How about the virgin milkmaid, and the well hung stableboy? |