The Professionals
(1966)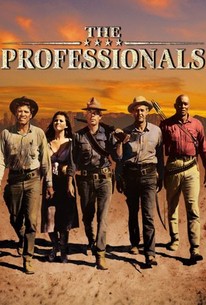 Movie Info
Grant (Ralph Bellamy) is a wealthy rancher who hires four mercenaries to retrieve his wife, Maria (Claudia Cardinale), from the clutches of the desperado Raza (Jack Palance) in this Western adventure set in 1917. Dolworth (Burt Lancaster) is a munitions expert who joins gunslinger Fardan (Lee Marvin), horse trainer Hans Ehrengard (Robert Ryan), and longbow master Jake (Woody Strode) when the men are offered 10,000 dollars apiece for the safe return of Grant's kidnapped wife. The cadre travels 100 miles into Mexico to retrieve the woman, whom they later discover wants to remain with Raza, but they decide to nab Maria anyway to make good on the money. Soon Fardan, Hans, and Jake are chased across the border by the enraged Raza and his equally deadly female accomplice Chiquita (Marie Gomez), while Dolworth stays behind to fight off Raza's Mexican banditos. The film received Academy Award nominations for Best Direction (Richard Brooks), Best Screenplay (Brooks again), and Best Cinematography (Conrad L. Hall). ~ Dan Pavlides, Rovi
Critic Reviews for The Professionals
Audience Reviews for The Professionals
The set-up of rough guys getting hired to free a kidnapped woman seems somewhat generic for Western films of that era, but the movie takes a few unexpected turns on the way. The action is plenty and filmed decently enough, the landscapes are absolutely gorgeous. Of course it still feels a bit dated but overall it's still a pleasant and entertaining experience from a time long gone.
This is Badass.

Jack Palance as a mexican
Lee Marvin as Lee Marvin
A mine car chase
Exploding arrows
The glorious cleavage of Claudia Cardinale
Ken Stachnik
Super Reviewer
½
Son of the Magnificent Seven - With few exceptions, westerns tend to follow a basic formula: bad guys, good guys, horses & guns. The Professionals isn't deep or cerebral but it is entertaining. A star-studded genre classic.
Randy Tippy
Super Reviewer
The Professionals Quotes
| | |
| --- | --- |
| Capt. Jesus Raza: | You want perfection, or nothing. The revolution was never perfect. We fight because we believe, we leave because we are disilliusioned, we return because we are lost, we die because we are committed. |
| Bill Dolworth: | To die for a woman is even more foolish, any woman, even her. |
| Bill Dolworth: | My word to Grant 'aint worth a plug nickle. |
| Rico (Henry Fardan): | You gave your word to me. |
| Hans Ehrengard: | Mr Grant, I can make 'em go, but I can't make 'em do. |