Professor Layton And The Eternal Diva (Reiton kyôju to eien no utahime)
(2009)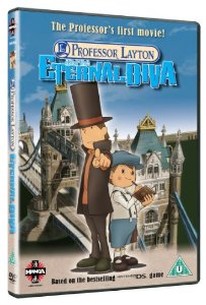 AUDIENCE SCORE
Critic Consensus: No consensus yet.
Professor Layton And The Eternal Diva (Reiton kyôju to eien no utahime) Photos
Movie Info
Nintendo and Level 5's popular puzzle adventure game series makes the leap to the big screen in this animated adventure from director Masakazu Hashimoto. When Professor Layton's former student Janice Quatlane invites him to her upcoming performance at the famed Crown Petone Opera House, the renowned English gentleman and detective invites his loyal assistant Luke along for the trip. But a pleasure gives way to business when London is plagued by a series of mysterious kidnappings. Convinced that there's a tie between the recent disappearance of two young schoolgirls and some bizarre events unfolding at the opera house, the professor and his assistant prepare to solve a case that would leave even the famous Sherlock Holmes scratching his head. ~ Jason Buchanan, Rovi
Critic Reviews for Professor Layton And The Eternal Diva (Reiton kyôju to eien no utahime)
All Critics (2) | Fresh (2) | Rotten (0)
Disposable fun that's near certain to put a smile on your face - and that's something we've not been able to say about a videogame adaptation for some time.
Audience Reviews for Professor Layton And The Eternal Diva (Reiton kyôju to eien no utahime)
½
Video game film adaptations are notorious among filmgoers because of their poor quality and notorious among gamers for a lacked of faithfulness to the source material (Max Payne), over reliance on the source material (Prince of Persia), or questioning said game being adapted to film (Super Mario Brothers). What works in a video-game narrative structure won't work the same way onto film. Both are vastly different needing specific elements to function. Professor Layton and The Eternal Diva is different taking what gamers love about the video game series and put it into a narrative that anyone could into regardless of their position to the series. Professor Layton and The Eternal Diva follows Layton and his apprentice Luke caught up in an adventure, when a masked figure steals an entire opera house and forces those in attendance to play a high-stakes game. The film takes place between the fifth and fourth entry in the game series building upon establish lore for fan while for the uninitiated serving as a standalone film without needing prior knowledge to enjoy. One element retain from the game are the puzzles. Just like in the video game, the puzzles are presented as puzzles allowing the viewer enough time to form their own conclusion. Unfortunately this element does not last long as viewer participation to form solutions faces two main issues; characters will either solve puzzles for us too quickly or plot convolution will create a major plot thread of seemingly insignificant things. Despite the puzzles not working entirely to the film favor the mystery keeps enough level of intrigue for viewers to be invested. The Legend of Ambrosia-a myth based on authentic Greek mythology-the film also surrounds itself with real world mythos. This supplements both fans and newcomer with something both are familiar with taking advantage of the rich myth its mystery is based around. Another area the film works is it faithfulness to the characters and matching the over the top spirit of the series. The film makes a wise choice to introduce its main cast as if we were meeting them for the first time. Choices like these is why the narrative works as a whole. Fans will be able to spot references to the video-game series and notice returning characters, but never loses focus in its main narrative. Characters on the other hand are given enough development to seek things through, but not enough to care about them. A lack of urgency due its plot convolution won't make you worried about the character lives. They do however offer some comedic moments and room for interesting conversations. This helps some of the film more dramatic scenes still pack a punch even without any attachment. When it reaches an extensive climax it where it stretches itself and most of it problems become noticeable. Plot convolutions, a lack of viewer involvement in solving puzzles, and no urgency all make a present. Even with a flawed overstretched climax it ends on a good note. The art style is a mixture of European influences with more traditional anime styling. Character features and movement are overly exaggerated like an anime. Environments and characters design are drawn in clear line (or Ligne Claire) European style featuring strong colors and a combination of cartoonish characters against a realistic background without anything appearing flat. The film also uses a considerable amount of CGI for some of its more harrowing moments. It's CG usage stick outs badly not fitting exactly with anything matching the hand drawn visuals. Thankfully CG is strictly use within the realm of the mechanical like a car meaning CG will only serve a mild distraction when on screen. Tomohito Nishiura and Tsuneyoshi Saito have produced the music for several of the Professor Layton game titles. Their signature classical compositions that will appease viewers. Voice acting is solid, but far from subtle. In the English dub lip syncing can be off noticeably and some voice actors will go on for long periods simply shouting their lines. At least what's make it voice work bearable is the authenticity of the talent. Effort from the cast is evidence even if they don't know how to approach reading a line. Professor Layton and The Eternal Diva is a step forward for video-games film adaptation keeping what fans like about the series while also structuring its narrative so anyone can get into it. Granted solving the puzzles isn't as fun as in the video games missing a sense of urgency along with it. Both fans and the average filmgoers will find flaws with the film, but is a decent a film that gets right what so many video game film adaptation get wrong.
Caesar Mendez
Super Reviewer
½
A Videogame movie? oh this can't end well... or does it!? A known fact among gamers and film buffs. is that videogame movies are pretty much dead on arrival. For whatever reason good stories just can't be made out of them. Videogame developer Level-5 made this film based on their characters, can they give their own character justice or will it all be ruined like so many that have tried before. The animation here is really cute and while not the most amazing, it's hard to watch without even the slightest smile. It's animated exactly like the cutscenes within the game, which will be very comforting for it's fans. As far as Japanese animated films go, it may not be in Miyazaki's standards but it will be nice to just look at an animated film from Japan that has a style different from the norm. The film's score is very similar to the game which is a lot of fun to hear whether one is a fan or not. The only problem in this is what is not from the game will sound a bit boring and more forgettable. This film still uses a good amount of the game's music to move along though, which is more than most videogame films can say. Leading the film is voice actor Christopher Robin Miller (who also voices the character in the game) as Professor Hershel Layton, an avid puzzle solver from London, who is so good he's often put in a situation where he comes off as a detective (though he claims he's not, he just is that good at solving puzzles); what's fun about the character is that he's never really fazed all that much, it's almost like his perfect(but not boring) almost like watching an animated MacGyver just a bit more fun for everyone. Sidekick Luke Triton voiced by Maria Darling (same for the games), is Layton's young "Apprentice number one" as Luke refers to himself as, learning how to be a gentleman while becoming a great puzzle solver, he is cheerful and provides relief without being a snarky kid who's to smart for the adults like most family (children) movies today try to do, it really makes him fun to watch as a sidekick. On the other end of assistants comes Emma Tate as Emmy Altava an adult heroine who provides a bit of competition for Luke; she goes off on her own early on to solve a case on kidnapped children, that later goes much deeper with the main plot. Emma Tate also voices Janice, a famed opera singer who requested Layton to assist her in an odd occurrence. The rest of the cast does a fine job, but to go more into them might ruin some of the film's surprises. The opening though contains few tidbits for the fans to enjoy as favorite characters from the games make small cameos including rival Don Paolo, Inspector Chelmey and Flora Reinhold. Professor Layton has solved many cases, but when a deadly game with the prize of Eternal Life comes he must solve the case before it's all to late. The film provides a fun adventure feel, all while making the audience think about the challenges the characters come across with ( can you figure out whats the oldest thing you can see before they do? or would you have failed so early and meet certain doom) it provides a lot of interest in the mystery of it all. The final act of the film provides multiple plot twists in a single scene, it'd probably leave someone like M. Night dumbfounded, which unlike his most recent films this film has some good and smart twists. The adventure starts and never slows down, always making it fun to see how far these characters will go. Say what you will for other videogame films but "Professor Layton And The Eternal Diva" is a must watch not only for gamers, not only for animation fans, not only for mystery fans, but everyone.
DOCTOR PRIME
Super Reviewer
Professor Layton And The Eternal Diva (Reiton kyôju to eien no utahime) Quotes
There are no approved quotes yet for this movie.