Professor Marston & The Wonder Women
(2017)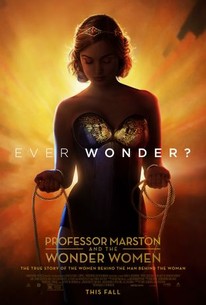 TOMATOMETER
AUDIENCE SCORE
Critic Consensus: Professor Marston & The Wonder Women winds a lasso of cinematic truth around a fascinating fact-based tale with strong performances from its three stars.
Professor Marston & The Wonder Women Videos
Professor Marston & The Wonder Women Photos
Movie Info
In a superhero origin tale unlike any other, the film is the incredible true story of what inspired Harvard psychologist Dr. William Moulton Marston to create the iconic Wonder Woman character in the 1940's. While Marston's feminist superhero was criticized by censors for her 'sexual perversity', he was keeping a secret that could have destroyed him. Marston's muses for the Wonder Woman character were his wife Elizabeth Marston and their lover Olive Byrne, two empowered women who defied convention: working with Marston on human behavior research -- while building a hidden life with him that rivaled the greatest of superhero disguises.
News & Interviews for Professor Marston & The Wonder Women
Critic Reviews for Professor Marston & The Wonder Women
Audience Reviews for Professor Marston & The Wonder Women
Inspired by a true story, Professor Marston and the Wonder Women is fascinating biopic about the man who created the DC superhero Wonder Woman. The film follows Harvard psychologist William Marston as he works to develop a lie detector machine and forms a polyamorous relationship between himself, his wife, and a student, which leads to him becoming a pariah in academia and taking up comic book writing. It also attempts to link the sexual overtones in the Wonder Woman comic to Marston's DISC theory and the sexual proclivities of his relationship with his wife and student. Luke Evans, Rebecca Hall, and Bella Heathcote all give strong performances and have good on-screen chemistry. However, before long it drops the facade about being about the Wonder Woman comic and frame story about the its fight with the comic code authority, and just becomes blatant polyamory propaganda. Still, propaganda aside, Professor Marston and the Wonder Women is an interesting (if not over romanticized) look at the inspiration behind one of the most influential feminist icons of the 20th century.
Dann Michalski
Super Reviewer
½
It's not often a movie can make me feel An Emotion(TM), but with Professor Marston and the Wonder Women, I sure did. It doesn't exploit those avenues as well as it perhaps could have, and feels underdeveloped in a great many of its aspects, but still as both biopic and character drama, Wonder Women is a success. There are better movies than Professor Marston and the Wonder Women out there for a person to watch, but its hard to imagine there being one more timely.
Wonder Woman was a hit as a comic book in the past and recently a hit at cinemas around the world, so if this story was going to hit the mainstream, it only makes sense that now's the time. It seems as though more and more true stories are being made into films, and this may just be for me personally, but unique and original films seem to be dwindling down and more sequels and remakes taking their place. I believe that filmmakers choose to make true stories nowadays because the lack of original or interesting content is hard to come by, so things that have happened out in the real world seems like a safe bet that people will find enjoyable, for the most part. Quite frankly, I just thought Wonder Woman was made by a man who liked superheroes, but there's much more to it than that. If you wish to be intrigued by a story that's consistently surprising, then Professor Marston and the Wonder Women may just be the film for you. William Moulton Marston is the original author of the Wonder Woman stories, even though many of the books he wrote used the pseudonym Charles Moulton. Living a life as a professor, he became infatuated with one of his students. His wife sharing the same affections toward her lead to a love triangle between the three of them. William discovering that their traits made up the perfect woman, this lead to the creation of the character we all know and love today. Being a much more sexualized character in the past, things began to spiral out of control for this family. I loved watching this movie, but I also found myself wanting more in terms of how it was telling this story. I felt as though it was taking me through the motions rather than coming up with a clever way of telling its story. Yes, it has come clever editing techniques in the way that it goes back and forth through multiple periods of time, and even though the editing style was easily the stand out to me here, it wasn't enough to completely suck me in. Where I feel this film shined was in it's casting. Luke Evans has always impressed me, whether it's an appearance as a generic villain in Fast & Furious 6 or showing his musical talents in Beauty and the Beast just to name a couple, I've always seen him as someone who could be a real household name one day. This is definitely one of his most subtle performances, but the way he hid his accent and played off of each actress/actor. Rebecca Hall is wonderful as always and upon looking up Bella Heathcote's acting credits and seeing that she appeared in movies like In Time and Fifty Shades Darker and still having no clue who she was until now made me think that she wouldn't be memorable, but I can see her starring in her own film in the coming years. She came off as a very likable woman here and I can't wait to see more of her. In the end, Professor Marston and the Wonder Women uses a lot of techniques that countless other films do in recent years so that was quite the downfall to me, considering the subject matter was so risqué and intriguing for a modern audience, given our present climate. It's not going to be for everyone, due to the fact that the story itself may turn viewers off, but it's a true story that I'm sure many would like to discover. Overall, an impressive movie about the invention of a lovable character that has gone quite a bit under the radar, which is a shame.
Professor Marston & The Wonder Women Quotes
There are no approved quotes yet for this movie.