Prom
(2011)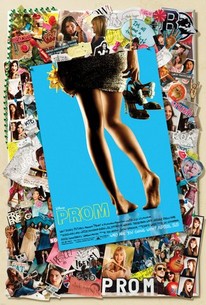 TOMATOMETER
AUDIENCE SCORE
Critic Consensus: Given its flatly descriptive title and live-action Disney pedigree, Prom is more nuanced and less cynical -- but also just as corny and cliched -- as you might expect.
Movie Info
At "Prom," every couple has a story and no two are exactly alike. Several intersecting stories unfold at one high school as the big dance approaches; "Prom" portrays the precarious passage from high school to independence as some relationships unravel and others ignite. For Nova Prescott (Aimee Teegarden), it's a battle of wills as she finds herself drawn to the guy (Thomas McDonell) who gets in the way of her perfect prom. Fellow seniors Mei (Yin Chang) and Tyler (De'Vaughn Nixon) harbor secrets, while others face all the insecurity and anticipation that surrounds one of high school's most seminal events. There are hundreds of nights in high school, but there's only one "Prom." -- (C) Disney
News & Interviews for Prom
Audience Reviews for Prom
haha I didn't even watch the whole thing. I saw it on TV and thought it was Prom Night, which is an equally awful movie, but it has that hot guy that plays Snow's boyfriend which makes the entire movie watchable. But anyway... The acting was so awful, as well as the writing. I was just watching it and it felt so awkward because no teenager would ever act like that or say any of those things ever in a million years. I only watched like the last 20-30 minutes and I was on my ipad too, so I wasn't paying much attention but this one scene was so hilariously outrageous. This girl is in her room getting ready and something flies through her window onto the floor. She looks out the window and there's a fucking little boy sitting in her tree! And he's like "I don't know how else to tell you, but I think now's a good time. I LOVE YOU." HAHAHAHHAHA omg. There wasn't a more appropriate time for him to confess his feelings to her? He had to sit up in a tree that looked about 20ft high outside her window. What sane/normal kid would do that? It's called a door and you walk up and knock on it or ring the doorbell, and after you knock -get ready for it- Someone comes to the door and let's you in! Crazy! Right? I know. Who would've thought knocking on a door would be easier than climbing a 20ft tree. But wait- It gets better!! Then he was like "I love you. If you go to the prom with that other boy, I might as well stay up in this tree forever." LMAO. Like dude you're 15, you don't know love. Get over yourself already. Go run to your mommy, have her make you a snack and you'll forget all about the nasty girl. Maybe if you weren't such a freak climbing trees like fuckin Tarzan, you would have a girlfriend. And you know what? In the end I think he is with his mom in a car HAHAHA I called it!! This was such a Disney movie. So clean, so innocent. Where's the couples having sex for the first time in the back of their rented limo? Where's the kids dry humping each other on the dance floor and barfing on each other because they can't hold their alcohol? Where's the kids drunk driving their way home, side swiping every parked car that comes in their path? That's what prom is about. Getting into trouble and fucking shit up. Real teens. Real world. Not in this movie.
Cast: Aimee Teegarden, Thomas McDonell, DeVaughn Nixon, Danielle Campbell, Yin Chang, Jared Kusnitz, Nolan Sotillo, Cameron Monaghan, Kylie Bunbury, Joe Adler Director: Joe Nussbaum Summary: Reinventing a rite of passage event for a new generation of prom-goers, this Disney movie mixes the stories of several high schoolers who are alternately planning on going -- or not going -- to the biggest dance of the year. My Thoughts: "I'm trying to imagine being a teenager again and if I would have maybe liked this movie then... nope. It's one of those brain dead films. I don't understand why a film about a prom needs to be almost two hours long. I can't believe it was so unoriginal and predictable, oh wait! Yes I can. Obviously I knew what I was getting myself into when I watched this. But sometimes you have to suffer through awful things when you have a teenager.
♥˩ƳИИ ƜѲѲƉƧ♥
Super Reviewer
A group of teenagers get ready for their high school prom. Good movie. Sweet and heart-warming. It has Disney magic written all over it. I actually enjoyed it enough to say to others I saw this movie without shame jaja. Prom and high school graduation are approaching for a group of seniors, but when the prom decorations are destroyed in an act of school vandalism, the class president is left scrambling. With everybody else pre-occupied with finding dates and dresses, Nova is left to rely on the principal forcing the school rebel to help her out. But when he's there for her when she needs it, she starts looking at him in a different light.
Prom Quotes
| | |
| --- | --- |
| Nova Prescott: | You're about to kiss me. |
| | |
| --- | --- |
| Sandra Richter: | Even if it fits, you'll still be the bigger man. |
| | |
| --- | --- |
| Kitty Prescott: | You were gunna kiss me. |
| Kitty Prescott: | You were gonna kiss me. |
| Jesse Richter: | If I'm about to kiss you...you'll know it. |
| Jesse Richter: | If I'm about to kiss you... you'll know it. |
| | |
| --- | --- |
| Nova Prescott: | It's just all of us together and this one perfect moment. |