Zavet (Promise Me This)
(2007)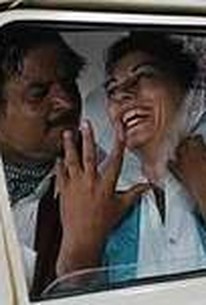 AUDIENCE SCORE
Critic Consensus: No consensus yet.
Zavet (Promise Me This) Photos
Movie Info
A young man attempts to fulfill the last wish of his dying grandfather in director Emil Kusturica's quirky romantic comedy Just outside of Belgrade, a man named Tsane (Uros Milovanovic) lives on a remote hilltop with his grandfather Deda (Aleksander Bercek) and Cvetka the family cow. Apart from Tsane and Deda, the only other inhabitant of the tiny village is a teacher named Bosa (Ljilana Blagojevic). One day, Deda announces to Tsane that he is dying, and that before he passes away he wants his grandson to travel to the nearest town and sell Cvetka at the market. With the money that he makes from the sale of the cow, Tsane is to purchase a religious icon and any other items he wishes. Before the young man returns home, however, his must also find a wife. Though the prospect of finding a bride before his grandfather dies will indeed prove a formidable task for Tsane, just when it seems that all hope he runs into the beautiful Jasna (Marija Petronijevic) - who is late for school once again. ~ Jason Buchanan, Rovi
Critic Reviews for Zavet (Promise Me This)
All Critics (3) | Top Critics (1) | Fresh (1) | Rotten (2)
The likeliest reason this film was included in the Palme d'Or lineup was as a nod during Cannes' 60th birthday to the two-time Palme winner; it only serves to underline how far the helmer of When Father Was Away on Business has sunk.
May 29, 2007

Promise Me This is bold and bright and loud, but it's schizophrenically divided -- too cartoony to take seriously, too violent to just laugh at.
May 29, 2007
Newcomers and big fans of Kusturica's comedies should book first-row seats (even though Zavet completely misses the emotional resonance or satire of his best films), while returning visitors should opt for the cheap seats.
Audience Reviews for Zavet (Promise Me This)
½
"Zavet" (Завет, "the testament") or English title "Promise Me This" is a bizarre comedy written and directed by the award-winning filmmaker Emir Kusturica. [img]http://bt.eutorrents.me/imagehost/images/zavet.jpg[/img] Set in the picturesque mountain of Zlatibor, the story of an old man named Zivojin Marković (Aleksandar Berček), and his grandson Cane (Uros Milovanović) was touching to a degree... actually the touching part was lost in the very different humour Kusturica serves us this time. I love his movies, and this one deserved to be in Cannes, but I admit that this was probably his weakest film ever. Of course, his weakest is still ahead of the rest. The cartoonish abilities of the main characters were fun to watch and there was a lot of action, and acting of the well known faces from previous Kusturica's movies, was as usual - excellent. You will laugh, and cover your ears from time to time, listening to the combination of the hectic music and automatic weapon shooting, while following a young boy going to a nearby town where he is supposed to meet up with his grandfather's stepbrother, who is dead. The story follows him meeting this man's two grandsons, two good-natured brothers who are nevertheless small-time criminals and experts in demolition... Our hero clicks with these men, and also falls in love with a schoolgirl (Jasna, played by Marija Petronijević), who he wants to marry as part of his testament with his grandfather (the other parts of the testament are to bring back an icon and a souvenir, which he should buy with the money he gets from selling the cow). Girl's mother is in trouble, and the young hero rescues her and her daughter from a criminal called Bajo (Miki Manojlović)... If you love absurd entertainment - this is not a bad one to check out!
Zavet (Promise Me This) Quotes
There are no approved quotes yet for this movie.