Proof
(1991)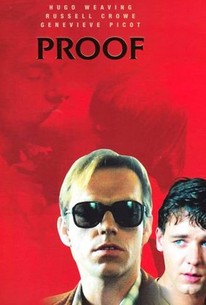 Movie Info
Australian director Jocelyn Moorhouse made her debut with this black comedy, in which blind photographer Martin (Hugo Weaving) finds himself drawn into a obsessive love triangle involving himself, his housekeeper (Genevieve Picot), and his young assistant (Russell Crowe).
Audience Reviews for Proof
Highly improbable bit about a blind guy who takes pictures and then asks people to describe what's on the film so as a way to check on what really happened to him. Seems as if the poor bloke has trust issues and therein the major thrust of the piece: "who can you trust?" Hugo Weaving and Russell Crowe endeavor mightily to add some meat to this speculative presentation but it is Geneviève Picot as the maid, who is outside of the question, who could give a fuck, who is really the only real person in this head scratcher, and the only one who manages to keep your attention. Watch it to see her.
Kevin M. Williams
Super Reviewer
½
A well-scripted movie - one of many that I regret not to have watched before. "Proof" is the story of a blind man, but his worse handicap being his inability to trust anyone. When asked by his mother, why she would lie to him, he simply replies - "Because you can". It's fascinating how a simple few words can carry with it so much depth - and not just in the context of the movie; but in showing the kind of emotional insecurity an unsighted person has to live with everyday.
½
A beautiful, under-seen gem that features a regular outstanding performance from Russell Crowe, as well as one of Hugo Weaving's (perhaps the most under-appreciated actor of the last few decades or so) best turns. This is a pure character study film, focusing in on a cynical blind man (Weaving) who befriends a local restaurant worker (Crowe), and lets him in on his secret of taking pictures of everything he comes across and having that person give him a vivid picture of what it is he's captured. While it starts a little slow and takes some time to get into, this film shines brighter than I originally anticipated thanks to three terrific, fully fleshed out characters (the other being Geneviove Picot) who are consistently interesting and entirely unpredictable - which makes the film so hypnotizing. Weaving shines brightest amongst all, inhabiting a figure whose past is just utterly heartbreaking, and who doesn't hand out his trust very easily. The end of the film could have easily went against everything that made it so special, but instead it plays its cards rights and ends ideally.
Dan Schultz
Super Reviewer
Proof Quotes
| | |
| --- | --- |
| Doctor: | You've been blind since birth. So what were you doing driving a car? |
| Martin: | I forgot |