The Prophecy 3: The Ascent
(2000)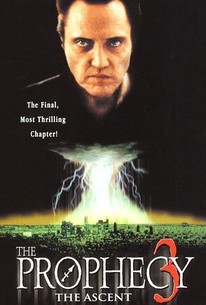 The Prophecy 3: The Ascent Photos
Movie Info
In the third installment of the series that began with The Prophecy, the Angel Gabriel (Christopher Walken) has taken up residence on Earth, where he's learned to enjoy the simple pleasures of life among humans, such as frosted doughnuts and driving a convertible. One night, he witnesses Danyael (Dave Buzzotta), a heretic preacher with a storefront church who tells his flock that God doesn't care much for the people who tend the Earth. A blind man (Brad Dourif) who claims to hear the voice of God shoots Danyael several times in the chest. However, several hours after he's pronounced dead, Danyael rises from his slab at the morgue and heads out into the street. Maggie (Kayren Ann Butler), his understandably upset girlfriend, is then approached by Zouhael (Vincent Spano), a fallen angel who needs Danyael for his own evil purposes. It seems that Danyael is half human and half angel, and both Gabriel and Zouhael want his help. A Spirit of genocide and destruction is about to rise on a Native American reservation, and if Gabriel is going to stop it -- or Zouhael is going to bring it forward -- they will need Danyael's guidance. Prophecy 3: The Ascent marked the directorial debut of Patrick Lussier, who has often worked as an editor for horror director Wes Craven.
Critic Reviews for The Prophecy 3: The Ascent
All Critics (6) | Fresh (1) | Rotten (5)
Walken injects the lumbering final installment of this trilogy with whatever energy he can.
Exactly what you'd expect from the third installment in this silly horror series. Still, any chance to see Christopher Walken....
April 3, 2005 | Rating: 2/5
Audience Reviews for The Prophecy 3: The Ascent
½
The concluding chapter to walkens Gabriel is at least bearable and mixes it up compared to the sequel.
Brendan O'Connor
Super Reviewer
The Prophecy 3: The Ascent is the concluding chapter in which the story of the archangel Gabriel is brought full circle. Having been transformed into a human, Gabriel shadows the nephilim child Danyael when once again angelic forces seek to intercede and prevent Danyael from fulfilling his destiny. While Christopher Walken delivers yet another unique and interesting performance, he doesn't have much to work with. The cast is underwhelming and the storytelling is weak. There's an attempt to tie this trilogy together by taking the story back to its origin, but it's clumsily done. The Prophecy 3: The Ascent has and interesting story but it doesn't know how to tell it.
Dann Michalski
Super Reviewer
½
Christopher Walken could be in a movie about the phone book, and I would watch it. Fortunately, this is a pretty good film.
nefnie lee
Super Reviewer
The Prophecy 3: The Ascent Quotes
| | |
| --- | --- |
| Gabriel: | "In the end, there's still the word. Everywhere. In heaven with angels, the Earth and stars; even the darkest part of the human soul. It was there the word burned brightest, and for a moment... I was blinded." |
| Gabriel: | In the end, there's still the word. Everywhere. In heaven with angels, the Earth and stars; even the darkest part of the human soul. It was there the word burned brightest, and for a moment... I was blinded. |
| | |
| --- | --- |
| Gabriel: | "What's it like? To wake up.. as dead meat, with the buzzards circling?" |
| Gabriel: | What's it like? To wake up.. as dead meat, with the buzzards circling? |
| Danyael: | "Do I know you?" |
| Danyael: | Do I know you? |
| Gabriel: | "I know you, from.. Before you were born. Both times." |
| Gabriel: | I know you, from.. Before you were born. Both times. |
| | |
| --- | --- |
| Gabriel: | "You been with a woman, Zophael? It's like dying -- You moan, cry out -- You get to a spot, that has you BEGGING, for release. Once, I was an Angel of Death... now, I die every day... when I have the cash." |
| Gabriel: | You been with a woman, Zophael? It's like dying -- You moan, cry out -- You get to a spot, that has you BEGGING, for release. Once, I was an Angel of Death... now, I die every day... when I have the cash. |