The Proposition
(2005)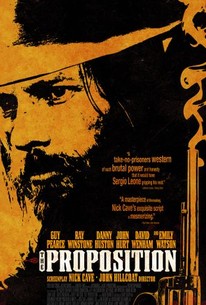 TOMATOMETER
AUDIENCE SCORE
Critic Consensus: Brutal, unflinching, and violent, but thought-provoking and with excellent performances, this Australian western is the one of the best examples of the genre to come along in recent times.
Movie Info
An outlaw is goaded into taking on justice at its most brutal in this hard-edged Western set in rural Australia in the 1880s. Charlie Burns (Guy Pearce) is a criminal living in the outback. He and his two brothers, Arthur (Danny Huston) and Mikey (Richard Wilson), are on the run from the law for rape and murder. Arthur is a violent and dangerous sociopath with a much longer rap sheet than his siblings and a reputation for hiding out in villages so lawless the police are afraid to visit them, while Mikey is a much younger and more impressionable chap.The authorities capture Charlie and Mikey after a bloody shootout, and the brothers are handed over to Capt. Stanley (Ray Winstone), a British lawman sent to Australia to help bring order to the colonies. Stanley proposes a deal to Charlie, explaining that it's Arthur he really wants, and that he's willing to spare the childlike and terrified Mikey if Charlie can find Arthur and murder him. Charlie, realizing that this is his only hope to save his simpleton younger brother (who is scheduled to be hanged on Christmas Day), agrees and sets out to find and execute his other brother, who he believes has gone too far into the world of crime. As Charlie scours the backwaters of Australia, he encounters Jellon Lamb (John Hurt), an educated yet thoroughly menacing bounty hunter. In time, Charlie finds his brother, but isn't certain if he can carry out his mission. Meanwhile, Stanley struggles to bring a European sense of civility to the rough and tumble land he now calls home, while his wife Martha (Emily Watson) becomes the focus of the lustful appetites of the men in town. The Proposition was written by rock star and novelist Nick Cave; he previously collaborated with director John Hillcoat on the film Ghosts... of the Civil Dead. ~ Mark Deming, Rovi
Critic Reviews for The Proposition
Audience Reviews for The Proposition
½
A balanced and compact movie. Not too much information, no unnecessary dialog, no extensive character building. Good soundtrack. A friend of mine said I should see it because I said I wasn't a fan of Guy Pierce, but he was alright. I sure am itching to see him in Lawless!
½
Nick Cave writes a unflinchingly brutal tale of the Australian Outback circa 1880 when the British Empire was molding the wilderness into its own likeness. Excellent performances carry the sometimes difficult poetic language of civilisation headbutting savagery.
Kevin M. Williams
Super Reviewer
½
I can't say I've seen many westerns, but from what I have seen I can tell I want to see some more. 'The Propsotion' is an Australian western about Charlie Burns' (Guy Pearce) journey to save his brother from being hanged by handing in his other brother Arthur (Danny Houston). Arthur however is a well known cowboy bad man wanted for multiple accounts of rape and murder, who likes to reside on villages the police are scared to enter. The main part of the film is about Charlie Burn's journey up to the mountains to find his brother, it mainly revolves around walking really slowly on a horse so the camera man can go to town on the scenery, and go to town he does, the film is spectacular to look at. These scenes of gentle horse trotting however are contrated against by strong scenes of violence and general face exploding action, which is nice. The film picks up once most of the walking is over and turns into an interesting thought provoking film about brotherhood and loyalty. It also has an awesome ending.
Cameron Sherwell
Super Reviewer
The Proposition Quotes
| | |
| --- | --- |
| Jellon Lamb: | I came to this forsaken land and the God in me just evaporated. |
| | |
| --- | --- |
| Arthur Burns: | Love, love is the king. Love and family. |
| | |
| --- | --- |
| Martha Stanley: | What if it had been me? |
| | |
| --- | --- |
| Jellon Lamb: | (singing) Oh, Danny boy, the flies, the flies are crawling. |