The Protector (Tom yum goong) (Warrior King)
(2005)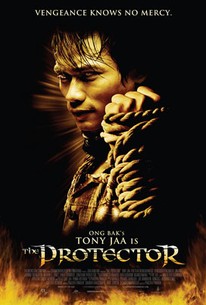 TOMATOMETER
AUDIENCE SCORE
Critic Consensus: Despite some impressive fight scenes, this trimmed-down version of the Thai action pic is an off-putting mix of scant plot, choppy editing, and confusing subtitles and dubbing.
The Protector (Tom yum goong) (Warrior King) Photos
Movie Info
Kham's life is turned upside down when an international mafia syndicate, based in Australia, captures his two beloved elephants and smuggles them thousands of kilometers away to Sydney. The two elephants are far more than mere animals to Kham and his father; they are part of his family and were being prepared to be presented as a token of devotion to his Majesty the King of Thailand. The only way Kham can possibly save the animals is by venturing into a foreign land for the first time. Taking on a mafia group to rescue two elephants from a foreign country presents a huge challenge, even for a martial arts master like Kham. Despite the help of Sergeant Mark, a Thai police Sergeant based in Australia, and Pla, a Thai girl forced into modern day slavery, the going gets tough. They must take on the ruthless gang of Madame Rose, whose henchmen include Johnny, a Vietnamese thief and martial arts expert, and the hulking TK. Kham has no choice but to risk his own life for the animals he loves.
News & Interviews for The Protector (Tom yum goong) (Warrior King)
Critic Reviews for The Protector (Tom yum goong) (Warrior King)
Audience Reviews for The Protector (Tom yum goong) (Warrior King)
½
(aka Tom-Yum-Goong, The Warrior King, Thai Dragon, Revenge of the Warrior) A much hyped fight film from Muay Thai expert Tony Jaa with many many excellent stunts and chase sequences. The only problem is we have now seen all this before from various other martial arts experts. The film itself is fine but its not really too original in any aspect, a simple revenge plot as usual and Jaa showing his skills yet again. Its very spectacular but I personally didn't get too engrossed. The most impressive thing about the whole film is the MMA fight sequences (the basic reason for this movies existence) mainly the fight between Jaa and Capoeira fighter Lateef Crowder. This one fight sequence is the most impressive fight I've seen in years, its fantastic, Crowder is amazing and almost too good to be true with his moves. Add to this the following fight between Wushu expert John Foo and then a one off battle against wrestling strong man Nathan Jones which is impressive merely to see the size differences, think Bruce Lee v Kareem Abdul Jabbar. To be honest the film is worth seeing for those three fights, apart from that its business as usual with this action film.
Phil Hubbs
Super Reviewer
½
The story and script are weak, and the acting is pretty wooden, but then again, those are not the reasons to see this. This film about a man tasked with protecting elephants who goes off to save a pair of them from an international crime syndicate feels less like a movie and more like an excuse to show off some crazy stunts and awesome fight scenes. That's okay with me. Against my better judgment I'm giving this film a mild recommendation because...damn..what this film gets right, it gets it right in spades. Going for the Jackie Chan style of doing everything practically and with no CGI, the action in this movie is balls to the wall incredible. The highlight, for me is a masterfully executed long take in which Jaa's character fights his way up several flights of stairs in order to confront one of the villains in a restaurant. The choreography and sets are one thing, but the fact that it was done as an unbroken long take just really takes the cake as far as impressiveness is concerned. Aside from the action, this is just a blah and predictable movie. It's enjoyable, but could have been great if everything was as strong as the fights and stunts.
Chris Weber
Super Reviewer
½
there is no doubt that tony jaa is a legit action star. his martial arts work is stellar and the stunts were exciting, however, he has nearly no dialogue in the film, and other than knowing that he protects elephants we know nothing about him. some of the action sequences were fun, but some were way too over the top, like johnny the crime boss calling hoods from all over the city through the loudest horn ever built in a torn down little warehouse. There was also a fight scene at the end that was the scene that never ends, where jaa must have fought half of the population of australia. the film was fun, but also carries the distinction of being the movie that features the only major crime syndicate in the world to possess thugs in the thousands without a single one of them owning a gun. jaa with a more creative storyline - lets hope.
The Protector (Tom yum goong) (Warrior King) Quotes
There are no approved quotes yet for this movie.