Providence
(1977)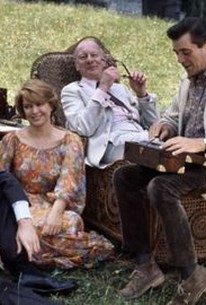 Movie Info
French New Waver Alain Resnais directs his first film in English. Sir John Gielgud plays Clive Langham, an author contemplating a vicious novel about his worthless relatives as he lies sick in bed. But they are not the monsters he perceives them to be, and they try to nurse him back to health.
Critic Reviews for Providence
Audience Reviews for Providence
New Wave icon Alain Resnais continues to test his audience with the marvelous "Providence," a surreal tale in which a dying, cantankerous novelist (John Gielgud, never better) uses people from his life as placeholders to map out an unfinished book. The bulk of the film's action is taken straight from the writer's head and thus is pure fantasy. As if Gielgud's presence isn't impressive enough, the cast is loaded with other world-class talents such as Dirk Bogarde (dark and testy as ever), Ellen Burstyn, Elaine Stritch and David Warner. Warner does seem somewhat miscast, mainly seen as a guileless naif -- it's best to view this performance alongside early roles like "Morgan: A Suitable Case of Treatment" and "Work Is a 4-Letter Word" and forget all the sadistic villains he played later. The internal story is primarily a love triangle in which Burstyn cheats on husband Bogarde with Warner. There's also a bizarre, undeveloped werewolf motif that hopefully was deleted from the book's final draft (this is a work in progress, after all). "Providence" is a delightful brainteaser -- just do your best to ignore how grating the characters' incessant wine-slurping becomes.
Eric Broome
Super Reviewer
In "Providence," Ken Woodford(David Warner), a soldier, is on trial for murder. Ken claims that the man he killed wanted to be put out of his misery to spare him an excruciating death. Luckily, for him, the jury believes him. That does not make Claude Langham(Dirk Bogarde), the prosecutor, any happier in losing the case. At the same time, Claude's wife, Sonia(Ellen Burstyn) tries to befriend and then seduce Ken which fails. In response, Claude's elderly father Clive(John Gielgud), a writer, creates Helen(Elaine Stritch) for Claude, who also bears an uncanny resemblence to Clive's late wife. First the obvious. "Providence" is a weird movie. That just goes to show you what happens when Alain Resnais makes a movie in English about somebody trying to create his own fantasy world like Clive does here, with unpredictable reality constantly intruding. At first, the military dictatorship depicted in the film may seem like science fiction but the mass arrests in the soccer stadium are meant to I think reflect the then current situation in Pinochet's Chile. Overall, the movie takes place nowhere and everywhere with the only clue being that everybody reads New York Magazine. In any case, the absurdist elements do not work anywhere near as well as the average episode of Monty Python in this movie that simply goes on too long.
i wasn't aware resnais had made english language films but this is a fine example. wonderful cast including john gielgud as a wicked novelist in his waning years contorting his family into characters for his latest book, and dirk bogarde as his eldest son, whose relationship with his father seems strained at best. one of resnais' typically experimental structures, using imagination, flashbacks and dreams to explore time and memory. very enjoyable
Stella Dallas
Super Reviewer
Providence Quotes
There are no approved quotes yet for this movie.