Prozac Nation
(2001)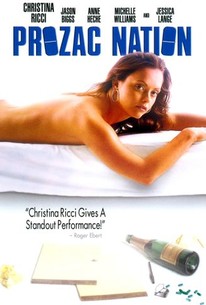 Movie Info
Following up his critically acclaimed debut Insomnia (1997), Norwegian director Erik Skjoldbjaerg makes his first English-language feature with this adaptation of the book by Elizabeth Wurtzel. Christina Ricci stars as Lizzie, a prize-winning student heading off to Harvard where she intends to study journalism and launch a career as a rock music critic. However, Elizabeth's fractured family situation including an errant father (Nicholas Campbell) and a neurotic, bitterly hypercritical mother (Jessica Lange) has led to a struggle with depression. When her all-night, drug-fueled writing binges and emotional instability alienate her roommate and best friend, Ruby (Michelle Williams), as well as both her first (Jonathan Rhys-Meyers) and second (Jason Biggs) boyfriends, Lizzie seeks psychiatric counseling from Dr. Diana Sterling (Anne Heche), who prescribes the wonder drug Prozac. Despite success as a writer that includes a gig writing for Rolling Stone and some mellowing out thanks to her medication, Lizzie begins to feel that the pills are running her life and faces some tough choices about her future. Prozac Nation (2001) is a longtime dream project of star Ricci, who also serves as one of the film's co-producers.
Critic Reviews for Prozac Nation
Audience Reviews for Prozac Nation
½
The strong performances from Ricci and Lange elevate this depressing drama and prevent us from fully hating a troubled character who can't stop hurting everyone around her, and it is very sad how it shows the tragic effects of depression on a person and on those who love her.
Carlos Magalhães
Super Reviewer
½
For anyone suffering from depression, Elizabeth Wurtzel's 1994 memoir was a boon. This film reflects on her time at Harvard, and the battle that ensued as she took on her demons. Starring Christina Ricci in the titular role, Lizzie has to take on her past demons now that she's away from home. Her mother (Lange) and father (Campbell) went through an irrefutably volatile divorce that still has a negative impact on Lizzie. She has battled through all this before, but now that she's in Harvard, devoid of a lot of human contact or the comforts of home, she unravels. Unable to break from her writing, addicted to drugs and alcohol, vehement, even to her supporters, and co-dependent of her first love, Rafe, Lizzie is lost in a sea of darkness. The film doesn't speak of someone's inability to cope, and isn't driving towards the point of being an indie feature. Most of the film features a build-up of tension between Lizzie and her mother, and the problems Lizzie faces in recovery. Lizzie is also a very emotional and bitter young woman, who thrashes out at anyone she could call a friend, and while this isn't a clear indication of what a depressed person looks like, it does make the character interesting. Her recovery after her prognosis and the steps she takes make for a great watch; for any young adult or teenager who is currently having their own trials and tribulations. Still, there's something so over the top about this film that it remains uncontrollably uncomfortable for the audience. Ricci is probably the worst indicator of this, because her acting is so hammy at times. She screams at the top of her lungs, and always cries. There's never any introspection, no darkness or true sadness, just an inability to understand what is happening to her. That and the performance seems comedic after a few too many wails. Lange gives yet another great performance as a mother stuck between caring for her daughter and living her own life, and Biggs is interesting for once, if a little stilted.
Spencer S.
Super Reviewer
Okay if you like depressing movies about people who are completely self destructive. Personally, I knew too many of them in high school to want to spend another 2 hour with them.
Curtis Lilly
Super Reviewer
Prozac Nation Quotes
| | |
| --- | --- |
| Elizabeth Wurtzel: | I've always waited for that one moment of truth to set me free and change my life forever... |
| Elizabeth Wurtzel: | I've always waited for that one moment of truth to set me free and change my life forever. |
| | |
| --- | --- |
| Elizabeth Wurtzel: | Hemingway has his classic moment in "The Sun Also Rises" when someone asks Mike Campbell how he went bankrupt. All he can say is, "Gradually, then suddenly." That's how depression hits. You wake up one morning, afraid that you're gonna live. |
| Elizabeth Wurtzel: | Hemingway has his classic moment in "The Sun Also Rises" when someone asks Mike Campbell how he went bankrupt. All he can say is, 'Gradually, then suddenly.' That's how depression hits. You wake up one morning, afraid that you're gonna live. |
| | |
| --- | --- |
| Elizabeth Wurtzel: | Sometimes it feels like we're all living in a Prozac nation. The United States of Depression. |
| | |
| --- | --- |
| Ruby: | Lizzy, I'm not crying because you're mean. I just can't imagine how incredibly painful it must be to be you. |