P.S. I Love You
(2007)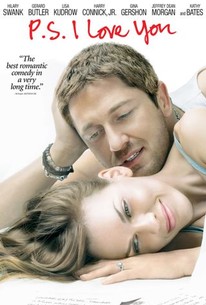 Movie Info
A grieving widow finds her husband's warmth radiating from the afterlife when she discovers that he left her a series of tasks to be revealed in ten monthly messages and designed to help her overcome her sorrow while gradually making the transition into a new life. Holly Kennedy (Hilary Swank) is a New York real estate broker whose good-humored husband, Irishman Gerry (Gerard Butler), always stood by her side. Suddenly, and seemingly out of nowhere, Gerry succumbs to a brain tumor and Holly is left to face an uncertain future. No one in the world knows Holly better than Gerry, not even her mother (Kathy Bates) or her best friends, Sharon (Gina Gershon) and Denise (Lisa Kudrow). But while Holly remains unsure if she can go on without the love of her life to help guide her, Gerry has planned ahead. On Holly's 30th birthday, she receives a cake and a special tape recording from Gerry that implores her to get out and celebrate instead of staying in and mourning. Later, as the months wear on, a series of additional messages arrive from Gerry -- always delivered in the most remarkable and surprising of ways. With each new message comes a new adventure, and each letter signs off in the same familiar way: "P.S. I love you." Despite the fact that Holly's mother and friends think these humorous, posthumous messages are keeping Holly bound to the past, the truth is that they are lovingly guiding her into the future while proving that sometimes death isn't just the end, but a new beginning as well. Director Richard LaGravenese teams with screenwriter Steve Rogers to adapt author Cecelia Ahern's best-selling novel. ~ Jason Buchanan, Rovi
News & Interviews for P.S. I Love You
Critic Reviews for P.S. I Love You
Audience Reviews for P.S. I Love You
½
Interesting movie. I can't imagine what it would be like to have a spouse die on you, but what Gerry does for Holly is pretty special.
The premise is so unbelievable I can't believe no one questions it: dying husband plans grieving wife's moves months in advance. How does he know??? "No one cares, its just a plot device, and the story's sooo sad..." I kept waiting for a letter to arrive out of the planned order. Anyway, a chick flick about love that reaches from beyond the grave ... and about getting on with living. The actors are good.
Kevin M. Williams
Super Reviewer
There is not much too this film, and it is very cliched, but the final product, for what it is, is very well done. Hilary Swank leads this film, and although the film begins with her husband passing away, he is able to hold the film together well enough for it to be a satisfying watch. It is definitely not the most original idea, and the dialogue is plain and sappy, but what would a romance be without a little of that? I found myself falling into every scene, no matter if it was dumb or beautiful, I felt the impact that I think the filmmakers intended. It is definitely a great date film that is not hard to watch, albeit a bit depressing at times. I felt myself to be upset for most of the film, but for all the right reasons. It's certainly not a hall of fame entry, but "P.S. I Love You" is tender enough to enjoy.
P.S. I Love You Quotes
| | |
| --- | --- |
| Gerry: | P.S I love you |
| Gerry: | P.S I love you. |
| Gerry: | P.S. I love you. |
| | |
| --- | --- |
| Sharon: | Plus, you're American, you got foreign exotic stuff going on for you. |
| Holly: | There is nothing exotic about being an American. |
| Sharon: | He doesn't know that! |
| | |
| --- | --- |
| William: | I'd love a shower. |
| Denise: | What a great idea!! |
| Sharon: | Oh my God! There's one downstairs, it's fantastic! Come on, I'll get you some linen and towels and show ya. Great. Take your wine. |
| Holly: | [whisper] What are you crazy?! |