Psycho II
(1983)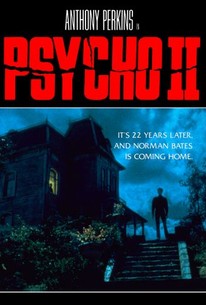 TOMATOMETER
AUDIENCE SCORE
Critic Consensus: Although it can't hold a cleaver to the classic original, Psycho II succeeds well enough on its own merits to satisfy horror fans.
Movie Info
A sequel to one of the most popular horror films of all time, this psychological thriller received a pleasantly surprised, positive critical reception. Anthony Perkins returns as Norman Bates, who has just been released from an insane asylum after 22 years, having been judged clinically sane by the State of California over the objections of Lila Crane Loomis (Vera Miles), sister to one of Norman's murder victims. Norman returns home to the hotel and hilltop mansion he once inhabited with his mother. As a parole condition, Norman is hired at a local diner, where he struggles to join mainstream society, despite the stares of patrons aware of his past. At the diner, Norman befriends Mary (Meg Tilly), a waitress, and it seems that he may be putting some semblance of a life back together. But then Norman begins to experience hallucinatory encounters with his long-dead mother, including a handwritten note, a phone call, and a sighting of her standing at her favorite window. Is Norman's psychosis manifesting itself again, or are old enemies attempting to drive him back into an institution? As the pressure mounts, bodies pile up, and Norman's fragile hold on normality becomes more and more tenuous.
Critic Reviews for Psycho II
Audience Reviews for Psycho II
Everyone onscreen is having a high old time in this return to Hitchcock's masterpiece that begins, lest anyone's forgotten, in the shower (that shower) and from there we proceed to find out if modern medicine has cured ol' Norman Bates. But in truth does anyone want him better? Do even we want him better? Perkins et al dive into the deep end of the pool with salacious glee as we watch him twitch and squirm through every difficulty. Can he keep his sanity? No cast should ever be allowed to have this much fun.
Kevin M. Williams
Super Reviewer
After twenty-two years, Norman Bates is deemed sane and released from the asylum. He returns to live at the motel, while taking up a job at a local diner. He befriends Mary Samuels, a young waitress also working at the diner, and lets her move into the house with him when she and her boyfriend split up. But suddenly Norman starts receiving phone calls and notes from his mother. These are followed by a series of murders. Norman is unable to tell whether he is going crazy or there is somebody else behind this. Alfred Hitchcock's Psycho (1960) is one of the most influential films ever made. Purportedly more term papers are written about Psycho in film school than any other film. Psycho not only influenced numerous copies, but it brought the modern horror out of the Gothic darkness of the 1930s and 40s and into a world of twisted Freudian psychology and screwed-up Puritanical sexuality that has remained a fundamental undertow of the psycho-thriller ever since. Alfred Hitchcock passed away in 1980 and that seemed to act as signal that it was okay to approach the sacrosanct territory of sequelizing Psycho, probably something Hitchcock would never have okayed in his lifetime. Two Psycho sequels were first announced within less than a year of Hitchcock's death and both emerged in 1983 this film sequel, as well as Psycho II (1983), an unrelated novel by Robert Bloch, author of the original book that Psycho was based on. This film would then be followed by a whole host of other Psycho sequels, including Psycho III (1986), the cable-movie Psycho IV: The Beginning (1991), both with Anthony Perkins, a loosely related tv pilot Bates Motel (1987) that never sold, and then Gus Van Sant's bizarre shot-for-shot remake of the original Psycho (1998). Psycho II makes an impressively scrupulous attempt to sequelize such a legendary work. It brings back both Anthony Perkins and Vera Miles from the original. Oscar-winner Jerry Goldsmith replaces the late Bernard Herrmann on score. And the director was the Australian Richard Franklin. While a student at the University of Southern California film school in the late 1960s, Franklin had invite Alfred Hitchcock in for a Q&A session. The two struck up a friendship and Hitchcock invited Franklin to come and visit him on the set of his last movies and became a mentor of sorts to him. In a nice touch the Meg Tilly part here was originally offered to Jamie Lee Curtis, who just had some success as the heroine in Halloween (1978). Jamie Lee was of course the daughter of Psycho's original shower victim Janet Leigh. Alas this never came to pass as Jamie Lee announced she was sick of slasher movie typecasting and refused any more genre roles, and the part was recast with Meg Tilly, who does a fine job. Psycho II is a sublimely clever effort, sometimes a little too much for its own good. But Tom Holland's script is full of sly subtleties and often haunting dialogue. It is a script that gives the audience a real workout in the sharp twists and turns it convolutes through. And the ending holds a last neatly black surprise just when one thought the film had finished. Anthony Perkins soups up his range of expressions the film certainly casts him a more heroic role this time around. He?s quite creepy in his twitchiness and yet at the same time the two decades has allowed his boyishness to mellow into something inordinately likeable. Director Richard Franklin has learnt well from the master. Franklin exactingly restages and quotes scenes from the original the shower murder, Arbogast's murder on the stairs and the venture down into the cellar but at the same time wittily subverts their familiarity. The new shocks he delivers have a classical orchestration that move with everything the contemporary slasher cycle did not. Certainly the violence is a lot more explicit and bloody than Hitchcock would have ever allowed in one of his films. The design team do a superb job of recreating the house in a perfect facsimile detail for detail to the original. Even the camerawork is determined to show off its cleverness with the use of massive wide-angle aerial shots and reflections off door handles. Richard Franklin made a number of other films of genre interest are: Patrick (1979) about a psychic comatose patient, the excellent Hitchcock-influenced psycho-thriller Roadgames (1981), the children?s film Cloak and Dagger (1984), the killer chimpanzee film Link (1986) and the subtly effective ghost story Visitors (2003). Franklin has also directed a reasonable amount of tv, including the pilots for genre series such as Beauty and the Beast (1987-90) and The Lost World (1999-2000). Screenwriter Tom Holland delivered a number of other genre scripts including The Initiation of Sarah (1978), the revenge drama Class of 1984 (1982), the transformation film The Beast Within (1982), the slasher film Scream for Help (1984) and Cloak and Dagger. Holland subsequently went onto direct the vampire film Fright Night (1985); Child?s Play (1988), which started off the whole Chucky franchise; the psycho secretary tale The Temp (1993); and the Stephen King adaptations The Langoliers (tv mini-series, 1995) and Thinner (1996).
Cassandra Maples
Super Reviewer
Pretty effective sequel to Alfred Hitchcock's 1960 horror masterwork is pretty good considering that this one had the daunting task of following up one of the greatest works in the horror genre. The film happens twenty two years after the events of the first film, and surrounds Norman Bates again played with silent intensity by actor Anthony Perkins. Bates has now been released from the asylum, being declared sane by his psychologist. However, things go back to normal and Bates is far from sane. As far as sequels are concerned, this is pretty good, but of course it's nowhere as close as the original. Psycho II takes a more Slasher oriented approach to the original, which relied more on suspense and acting to create its terror. This follow-up tends to rely more on its Slasher formula to create the thrills, and it does that fairly well, but considering that this is a sequel to Hitchcock's masterwork, it is very hard to top. The film is well executed to make for an entertaining and thrilling two hours, but is never anything grand or remotely memorable. Anthony Perkins delivers a great performance as his iconic character Norman Bates, and he is what keeps you interested from start to finish. There's a strange sense that the lead actress's character has a constant sense of protection for Norman Bates, and it adds something unique to the atmosphere and tone of the picture. Fun and entertaining Psycho II will probably divide fans of the original, but in the end it is mindless entertainment and if you see it as such, you'll probably like it. Just don't go expecting the same cinematic experience that Hitchcock's classic offered.
Psycho II Quotes
There are no approved quotes yet for this movie.