Psychomania
(1971)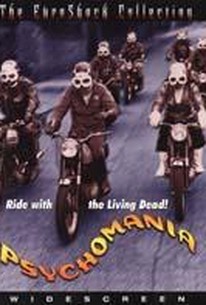 Movie Info
An annoying devil-worshipping British biker gang calling themselves "The Living Dead" decide to take their moniker to heart when their leader commits suicide and is brought back from the dead in an occult ritual, thanks to a Satanic pact. Realizing that becoming zombies could be even more fun than the usual day-to-day hell-raising, most of the gang follow suit -- throwing themselves off buildings, into traffic, walls, etc. Without the annoyance of death to contend with, the Living Dead become even more obnoxious than usual, leading to a pat solution from their leader's peeved mother (Beryl Reid). Outrageously dated and featuring loads of unintentional laughs, this is still the finest movie ever made about British zombie biker gangs and features the stately Reid turning into a giant frog. ~ Cavett Binion, Rovi
Critic Reviews for Psychomania
Audience Reviews for Psychomania
½
For a film about zombie bikers, this is surprisingly well-made. Solid acting and direction, plus a good acid-rock score. A most satisfying climax, too. This was far less campy than I expected.
Eric Broome
Super Reviewer
This was actually better than it had any right to be, despite its flaws. It's a rather hoaky British horror affair that could stand in line with Amicus and Hammer, style-wise. Very enjoyable if you're in the right frame of mind, it made me laugh out loud at times with its use of black humour and ridiculous storyline. There are also some great sequences in the movie that give it a creepy edge. If you can track down a copy of this, please do, as it is an undervalued and pretty much forgotten piece of British cinema that somehow made its way to the states in the early 70's.
Tim Salmons
Super Reviewer
This is one peculiar sucker. Even if you're not enjoying the film you have to keep watching simply because it's an odd cookie. But why you wouldn't be enjoying it is beyond me. It's pretty fast paced, allowing the plot to get ahead of itself and letting you catch up and it keeps chugging, but you won't be bored. It's low on violence and gore but it's high on fun (god that's corny) as it's simply enjoyable to watch the biker gang be hooligans along with the simple but effective score, that's one of the coolest I've heard. It definitely has that 70s British B-Movie feel, which isn't bad at all, as long as you're into that. It needs a better name though, but this one is kind of cheesily attractive. Anyway, it's a classic B biker with a supernatural plot, so I'd really like to know what's not to like.
Patrick Dolan
Super Reviewer
Psychomania Quotes
There are no approved quotes yet for this movie.