Puccini for Beginners
(2007)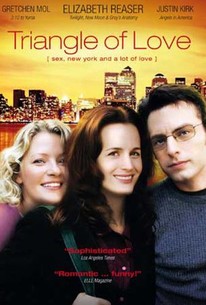 Puccini for Beginners Photos
Movie Info
A woman who loves opera finds herself playing a romantic version of musical chairs in this independent comedy from writer and director Maria Maggenti. Allegra (Elizabeth Reaser) is a writer who has been involved with Samantha (Julianne Nicholson) for some time, but Allegra just isn't willing to make a commitment. Eventually, Samantha decides she's had enough, and she not only leaves Allegra, she jumps to the other side of the gender divide and starts dating a man. While Allegra is none too pleased with Samantha's actions, she unwittingly finds herself following suit when she meets Philip (Justin Kirk), a college professor, at a party. After a few cocktails, Allegra and Philip end up in bed, and while Allegra is content to leave it as a one-night stand, Philip has different ideas, and goes so far as to dump his girlfriend to pursue a relationship with Allegra, even though she's made it clear to him she's not at all serious about him. At the same time, Allegra strikes up a new romance with Grace (Gretchen Mol), but she doesn't know all that much about Grace's previous lovers -- who happen to include Philip. Puccini for Beginners was screened in competition at the 2006 Sundance Film Festival. ~ Mark Deming, Rovi
Critic Reviews for Puccini for Beginners
Audience Reviews for Puccini for Beginners
A lesbian on the rebound begins dating a man and a woman who have, unbeknownst to her, recently broken up. Most of this film clips by at a great pace, and some of Allegra's lines, like "Those who break up with me usually earn my life-long devotion," are quite funny. And the smart dialogue, especially by random strangers on the street a la Annie Hall, is a good reason to like this film. However, though I have no problem that the film eventually degrades into a basic tale about the need for commitment and emotional honesty, I don't think that Allegra emerges as a character who could learn that lesson or one deserving of the film's comic ending. Has she really learned enough, or doesn't life always tell us that we can only truly learn once everything is already gone? Overall, I didn't laugh at this comedy, but a little smile appeared once or twice.
Jim Hunter
Super Reviewer
½
Elizabeth Reaser is lovely, complicated, and adorably clueless. Aspects of this movie echo Annie Hall: random strangers doling out romantic advice, eccentric fantasy like the sentient answering machine. Insightful commentary on sexuality and gender.
Alice Shen
Super Reviewer
Great movie!! Absolutely hilarious story plot. Intriguing. Here's a story of one woman who struggles to embrace relationship and commitment. Fearing those but wanting love and desire is one thing, but when she loses her girlfriend then she tries to find a semblance in replacing it in her life. Great cast- Gretchen Mol, Elizabeth Reaser, and Justin Kirk.
Puccini for Beginners Quotes
There are no approved quotes yet for this movie.