Puffball
(2008)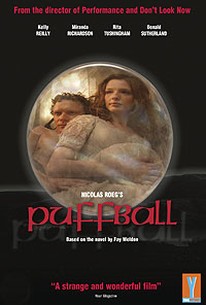 Movie Info
A young ambitious architect buys a ruined cottage to transform. But, the building, in an isolated Irish valley, has a history. And, when she finds herself unexpectedly pregnant the neighboring farmers turn against her and her unborn child and try to change the course of nature. A drama with supernatural overtones, a thriller about love, life, grief and sex, "Puffball" is an adaptation of the Fay Weldon novel of the same name.
Critic Reviews for Puffball
Audience Reviews for Puffball
Nicolas Roeg wants to touch some deep forgotten chords of the old days here, when the feel of things that go bump in the night was more than simply a yearly holiday for kids but he never latches onto the vibe and so neither do we. The shadows are there, but not fully realized, and so the things a waste by the end, before the end. Don Sutherland coasts through the film with a smile on his face that seems to imply: "I can't believe they're paying me for this shit." You'll quickly come to see his point unfortunately.
Kevin M. Williams
Super Reviewer
Interesting failure for fans of Roeg. His trademark visual style is all present but often incorrect - the foetal/puffball overlays look cheap and are unnecessary. The film works when it focuses on earthly realities but its supernatural leanings are woefully inept - amazing given the director's pedigree. The music is a mixed bag but at least original. Missed opportunity.
Gordon Anderson
Super Reviewer
½
Before I'd seen "Puffball" I was actually quite indignant that a significant work by a visionary director should be so difficult to get hold of; having seen it, I'd sympathize with any distributor who wouldn't touch it with a ten-foot pole. One of the trademarks of Nicolas Roeg's directorial style has been the use of such devices as visual metaphors, recurring motifs, unanswered questions, tantalising glimpses of back-story, ambiguous dialogue, etc, to give his films a textural depth without recourse to conventional characterisation or storytelling, a technique most brilliantly demonstrated in "Don't Look Now". No amount of clever artifice, however, is quite enough to convince us that there's more to "Puffball" than meets the eye. A tale of baby envy and witchery set in rural Ireland, I had hoped this might be something like cross between "Rosemary's Baby" and "The Wicker Man"; "Rosemary's Baby" and "Emmerdale" [British soap opera] would be nearer the mark. Miranda Richardson and Tina Kellegher, as sisters, try hard to inject some fun into the film, and the sight of Rita Tushingham using a second-hand condom to make a love potion has a certain novelty value, but Kelly Reilly and Oscar Pearce are dreadful as the young leads. Donald Sutherland pops up as Lars, architect Reilly's mentor, who spouts some Nordic pagan gibberish and buggers off again, presumably to leave us pondering his part in the dreary historical mystery Roeg keeps alluding to, but likely as not you'll be too busy wondering how this Roeg/Sutherland reunion could be so bloody awful.
Puffball Quotes
There are no approved quotes yet for this movie.