Pulp Fiction
(1994)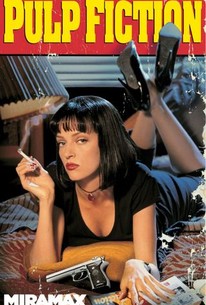 TOMATOMETER
AUDIENCE SCORE
Critic Consensus: One of the most influential films of the 1990s, Pulp Fiction is a delirious post-modern mix of neo-noir thrills, pitch-black humor, and pop-culture touchstones.
Movie Info
Outrageously violent, time-twisting, and in love with language, Pulp Fiction was widely considered the most influential American movie of the 1990s. Director and co-screenwriter Quentin Tarantino synthesized such seemingly disparate traditions as the syncopated language of David Mamet; the serious violence of American gangster movies, crime movies, and films noirs mixed up with the wacky violence of cartoons, video games, and Japanese animation; and the fragmented story-telling structures of such experimental classics as Citizen Kane, Rashomon, and La jetée. The Oscar-winning script by Tarantino and Roger Avary intertwines three stories, featuring Samuel L. Jackson and John Travolta, in the role that single-handedly reignited his career, as hit men who have philosophical interchanges on such topics as the French names for American fast food products; Bruce Willis as a boxer out of a 1940s B-movie; and such other stalwarts as Harvey Keitel, Tim Roth, Christopher Walken, Eric Stoltz, Ving Rhames, and Uma Thurman, whose dance sequence with Travolta proved an instant classic. ~ Leo Charney, Rovi
Critic Reviews for Pulp Fiction
Audience Reviews for Pulp Fiction
"Just because you are a character doesn't mean that you have character" By the time that Quentin Tarantino's sophomore effort reached us in 1994, he had already been heralded as the new wunderkind of American cinema. His debut Reservoir Dogs recaptured the magic of the heist thriller and his screenplay to the bold and brilliant True Romance opened up a real desire to see more of his fast-talking low life's. Pulp Fiction is no different and is now widely considered a cinematic classic. It received 7 Oscar nominations, including Best Picture, Director and one for each of it's leading trio of actors in Travolta, Thurman and Jackson. It walked away with the Best Screenplay award and it won the coveted Palme d'Or at the Cannes Film Festival. On this evidence alone, it's hard to argue that Tarantino not only delivered on, but surpassed, his early promise. In L.A.'s criminal underworld, the lives and stories of the inhabitants intertwine. There are two hitmen with very different outlooks, a boxer forced to take a dive for the money, a gangster's moll who likes to dance and do drugs and many others who play a part in shaping their redemptive paths. "...a shapeless mass of matter" or "a magazine or book containing lurid subject matter...". These are the definitions of the word "Pulp" which we are provided with before the film even begins. As a result, Tarantino's masterpiece is self-referential from the opening title card. What follows is only proof of his intentions to recreate the trashy and hardboiled pulp novels of the early 20th century. Even the film's poster reflects the sensational cover art of these novels and it's this attention to detail that's often overlooked in Tarantino's homage to a bygone age. I suppose it's understandable that these details are overlooked considering Tarantino's highly stylish approach. He employs his (now common) nonlinear storylines and chapters, his abundantly original cast of characters and his dialogue has rarely been sharper. Quite honestly, he takes great pride in making pop-cultural references but the film itself has nowhere red the very pop-culture it revels in. To this day, it's endlessly quoted and few, if any, will ever frown at you inquisitively if you were to make a Pulp Fiction reference. It's not just the one-liners, the observant monologues or the endless back and forth, intelligent and philosophical discussions between the characters, it's the fact that snippets of dialogue actually matter in terms of the overall structure. Something can be flippantly mentioned one minute only for it to resurface with relevance at a later part in the film. Ultimately, it's the dialogue that brings every strand together and it's, quite simply, masterfully assembled. To embody his colourful characters, Tarantino assembles his most impressive cast yet. Considering his relative obscurity at the time, it was a bit of a gamble to have John Travolta headline the whole affair as hitman Vincent Vega (the brother of Michael Madsen's Vic Vega from Reservoir Dogs) but I don't think I'd be alone in saying that it was a welcome return to scintillating form. Uma Thurman also impresses as Mia, the coke snorting gangster's moll who seems ill at ease with all the violence and whispers that surround her no-nonsense kingpin husband Marsellus Wallace (a brilliant Ving Rhames). Even the limited acting skills of Bruce Willis are all but forgotten as the self-important, ageing pugilist, Butch Coolidge (a role originally offered to Mickey Rourke and Matt Dillon) but the real prize possession would have to be Samuel L. Jackson's Jules Winnfield, Vincent's unhinged partner who likes to quote passages from the bible and believes in divine intervention. There are so many great performances that it's hard to mention them all. From top to bottom, the whole cast bring Tarantino's dialogue to life; from the aforementioned main performers to the supporting likes of Christopher Walken's Captain Koons who hid an uncomfortable watch "up his ass" for 2 years to Zed and Maynard - Peter Greene and Duane Whitaker's white trash who like to "bring out the gimp" and sodomise their captives. There's even a character who only gets mentioned by name but still makes an impression: Antwone Rockamora, brilliantly nicknamed "Tony Rocky Horror" who's mentioned in an unforgettable, lengthy discussion on the sexual implications of massaging a woman's feet and whether it's in the same ballpark as "sticking your tongue in the holiest of the holies". So iconic are these characters and blackly comic dialogue that most will know exactly what I'm talking about without me having to elaborate and therein lies the sheer joy and richness of the film. From illuminated McGuffins to Big Kahuna Burgers, Pulp Fiction is one of a kind. It redefined the crime film with it's emphasis on cool and endlessly quotable dialogue and there's so much attention to characterisation that Tarantino could have made several films from his material. Watching "a bunch of gangsters doin' a bunch of gangster shit" has never been more enjoyable. Mark Walker
Mark Walker
Super Reviewer
Pulp Fiction skillfully blends the stories of Jules and Vincent, a pair of wise cracking hit-men and their stash of unidentified merchandise, Marsellus Wallace the criminal kingpin they work for, his coke snorting wife Mia, scheming prizefighter Butch Coolidge who double crosses him and a pair of small-time hold up artists. Upon the success of Reservoir Dogs, opinion was heavily divided as to Quentin's merit as a film maker, many condemning him as nothing more than a plagiarist passing off the ideas of better film makers as his own. Pulp Fiction silenced these critics and scooped the Palm d'Or at Cannes and by rights should have won best picture at the Oscars of that year. As you can probably tell, there is enough material here to make three films, but Tarantino's brilliantly economical script (hard) boils the constituent elements into a brilliant homage to exploitation flicks through the decades. The disjointed timeline works magnificently and the film constantly surprises on first viewing and consistently entertains thereafter. Many speak of memorable scenes and memorable lines from certain films, but EVERY scene, EVERY character and nearly every line in this film has become iconic. It boasts an unequalled ensemble cast of the coolest of the cool actors, a similarly iconic soundtrack and it captured the imagination of an entire generation. This film is, and always will be, entrenched in my top ten favourite films of all time.
½
Groundbreaking monologue, fantastic blend of violence & humor, as well as a stylized vision builds this film to be one of the best motion pictures of its decade. Pulp Fiction is arguably one the greatest films by Quentin Tarantino and the history of cinema. 4.5/5
Eugene Bernabe
Super Reviewer
Pulp Fiction Quotes
| | |
| --- | --- |
| Jules: | English mother fucker, do you speak it? |
| | |
| --- | --- |
| Mia Wallace: | Why do we feel it's necessary to yak about bullshit in order to be comfortable? |
| Vincent Vega: | I don't know. That's a good question. |
| Mia Wallace: | That's when you know you've found somebody special. When you can just shut the fuck up for a minute and comfortably enjoy the silence. |
| | |
| --- | --- |
| Mia Wallace: | I said Goddamn! |
| Mia: | I said God damn, God damn, God damn |
| | |
| --- | --- |
| Jules Winnfield: | Does he look like a bitch? |
| Brett: | No! |
| Jules Winnfield: | Then why are you trying to fuck him like a bitch? |