Pulse
(2006)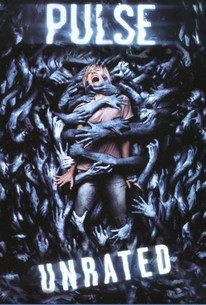 TOMATOMETER
AUDIENCE SCORE
Critic Consensus: Another stale American remake of a successful Japanese horror film, Pulse bypasses the emotional substance of the original and overcompensates with pumped-up visuals and every known horror cliche.
Movie Info
Imagine our wireless technologies made a connection to a world beyond our own. Imagine that world used that technology as a doorway into ours. Now, imagine the connection we made can't be shut down. When you turn on your cell phone or log on to your e-mail, they'll get in, you'll be infected, and they'll be able to take from you what they don't have anymore--life.
News & Interviews for Pulse
Audience Reviews for Pulse
What is the deal with remaking excellent horror films? The films are terrific to begin with. There's nothing wrong with them, the only thing is that the American Studios want to cash in on the remake because they're so greedy and don't give a shit about destroying classics. With the remake of Kairo, now titled Pulse, we get just that. The film is a recipe for disaster. There is nothing good to be found within. The entire film is waste of Celluloid and it's just a big stylish special effects extravaganza. A good horror film uses atmosphere to build its horror, but this remake uses special effects, and it works badly. Although not as bad as the sequels, Pulse is still a sloppily made horror remake that just doesn't cut. The acting, story and directing are all terrible, and there's nothing going on that will appeal to the diehard horror fan. This is a pointless, awful remake of great film and it scraps the bottom of the barrel when it comes to trying to outdo the original. On the rare occasion a remake works, but 97% of the time, it doesn't. One reason they fail is because they never capture the essence, the creativity, the richness of the original film. Pulse is yet another awful horror remake and it doesn't work whatsoever. Luckily, it will be forgotten in the next ten years.
I actually liked this a lot more than I thought I would, basically taking the virtual ghost idea to a new level. A really interesting look is given to the movie which will undoubtedly remind you of The Ring. However, this is way more of a post-apocalyptic premise that was disguised as thriller with a final solution in hand. This really doesn't have a definite ending, nor is it a mystery. A lot of why this works has to do with Kristen Bell and Ian Somerhalder. Without them, this could've been really cheesy. However, the above average acting makes this a pretty believable movie in the end. It's effective and definitely worth watching.
Conner Rainwater
Super Reviewer
½
Not bad, but quite strange scary and has loads with terrifying thrills and gruesome special effects. Kristen Bell doesn't give a great performance and the rest of the cast with the exception of Ziagler give somewhat good performances. Horror remake of Japanese's 2001 Kairo.
Dean McKenna
Super Reviewer
Pulse Quotes
There are no approved quotes yet for this movie.