Octane (Pulse)
(2004)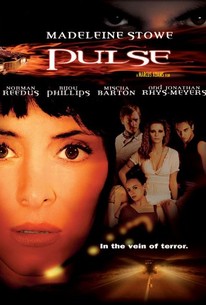 Movie Info
Television commercial director and music video maker Marcus Adams directs the U.K. thriller Octane, shot entirely in Luxembourg. Madeleine Stowe stars as overprotective mother Senga Wilson, who doesn't want her teenage daughter Nat (Mischa Barton) to get into trouble. While driving down the road with her mother one night, Nat jumps out of the car and escapes with a bunch of backpackers. It turns out the crowd she's running with is really an evil cult that's out for blood, led by a freaky guy they call The Father (Jonathan Rhys Meyers). In order to save her daughter, Senga embarks on a thrilling journey into a rave/dance underworld of violent twentysomethings while she copes with her own past. The techno soundtrack was provided by Orbital. Octane premiered in the U.S. at the 2003 CineVegas International Film Festival and was renamed Pulse for its eventual video release. ~ Andrea LeVasseur, Rovi
Critic Reviews for Octane (Pulse)
All Critics (6) | Top Critics (2) | Fresh (1) | Rotten (5) | DVD (1)
Once you scratch the surface, there's nothing underneath.
September 29, 2004
...the film's storyline is hopelessly convoluted and dull.
Starts as a pretty effective little thriller in the 'Road Trip turns deadly' vein -- and then takes a hard left turn into a field full of stupid.
Audience Reviews for Octane (Pulse)
Octane or Pulse, those are TWO completely incongruous random titles they chose to stick on this one! Teenage girl is kidnapped/seduced by a cult with cultdom's flimsiest charter ever that was probably outlined on a napkin with the intention of filling in the rest later. Come to think of it, that's probably how the screenplay was developed too. I watched this after seeing Madeleine Stowe in the credits, and after 45 minutes of waiting for her to show up I suddenly realized she was the mother of the teenager and onscreen most of the time, and I didn't even recognize her! She has aged very well and a peculiar haircut also threw me off. Without her terrific performance during the first hour (as the final 30 minutes consists solely of running, sneaking, and hiding) this is bargain basement 1-star fodder that doesn't deserve an actress of her quality. Yet she manages to infuse her character with intelligence, wit, and slight dementia to pull me into her predicament. Sadly the shoddy story and plodding camerawork don't contribute anything, and the needless dark, sickly green color scheme doesn't help either.
Doctor Strangeblog
Super Reviewer
vieras esine
Super Reviewer
Octane (Pulse) Quotes
There are no approved quotes yet for this movie.