Pumping Iron
(1976)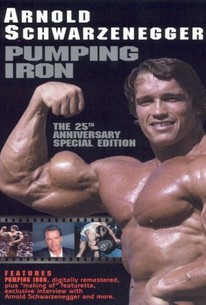 TOMATOMETER
AUDIENCE SCORE
Critic Consensus: In addition to offering an enlightening early look into the world of future star/politician Arnold Schwarzenegger, Pumping Iron provides a witty and insightful overview of competitive bodybuilding.
Movie Info
Baby oil, bulging biceps and perfect pecs abound in this documentary that takes a fascinating look behind-the-scenes at the Mr. Olympia bodybuilding contest. The story centers on the rigorous training the men undergo to develop those muscular bodies. Featured bodybuilders include Arnold Schwarzenegger, Lou Ferrigno, Franco Columbu and Mike Katz.
News & Interviews for Pumping Iron
Critic Reviews for Pumping Iron
Audience Reviews for Pumping Iron
½
This is a very early look into the career of Arnold Schwarzenegger. Before becoming a big name action star and the Governor of California, Arnold was a very popular bodybuilder, who won worldwide championships some six years in a row. This documentary follows him and several other contenders who are gearing up for the Mr. Universe contest in South Africa. Arnold is a very interesting subject, very open and forthcoming about much of his life, his expectations, and his confidence. He even discusses the merits of working out, and makes a parallel to sexual satisfaction in an unforgettable interview. Another subject of the film is a pre-Hulk Lou Ferrigno, who constantly trains just to beat the Austrian wonder. It shows a lot about Arnold's personality and the way his confidence and charisma builds, and remains telling of his future.
Spencer S.
Super Reviewer
½
An interesting, superbly well made documentary about the bodybuilding lifestyle and those heavily involved with it, notably Arnold Schwarzenegger and Lou Ferrigno. What this film does so well is how it explores the roots of all these guys and how they came to fall in love with the sport of bodybuilding, and how their pasts effected their choice of a career in life. Schwarzenegger and Ferrigno come across as totally likeable and rootable guys who you could see from the start were going to be big successes in life after bodybuilding. The film does not try to do anything special or go too long, and for that, it remains enjoyable through its running time.
Dan Schultz
Super Reviewer
½
Pumping Iron is the classic documentary about the sport of body building and follows Arnold Schwarzenegger as he competes for the title of Mr. Olympia. Aside from Schwarzenegger, Lou Ferrigno is competing against him, and is one of the biggest body builders in the 1975 competition. Pumping Iron is a compelling film, one that documents an interesting sport. Nowadays, Mr. Olympia is different, but back in the 1970's, you can clearly see the sport for what it was, a pure expression of trying to craft a muscular physique. Now, bodybuilders seem to push boundaries that are absolutely insane, almost abnormal. With Pumping Iron, which follows the 1975 Mr. Olympia competition, you see bodybuilders with a more natural looking muscle build. I really enjoyed the film, and thought it was a fine documentary that chronicled this interesting sport. For fans of the sport, this is a must see, and it definitely gives you an insight behind the scenes as to how body builders prepare for the event. The star of the film is of course Arnold Schwarzenegger and he really steals the show here. I really enjoyed the film, and thought it was a fine documentary on this interesting sport. If you hold an interest in the sport, or are interested in the subject, Pumping Iron is an engaging film that follows song of Bodybuilding most important contenders of the 1975 season. This is a well thought out film, one that definitely shows us an aspect of the sport that we rarely see. Fans will enjoy this one, and it also might be a worthwhile viewing for non body building fans as well simply for the fact that Arnold Schwarzenegger is in it.
Pumping Iron Quotes
| | |
| --- | --- |
| Himself: | Milk is fo babies. When you grow up you have to drink beer. |
| | |
| --- | --- |
| Himself: | It's as satisfying to me as coming is. You know, as having sex with a woman and coming. So, can you believe how much I am in heaven? |
| | |
| --- | --- |
| Himself: | Franco is pretty smart, but Franco is a child. And, when it comes to the day of the contest, I am his father. He comes to me for advices. So, it's not that hard for me to give him the wrong advices. |