Pumpkin
(2002)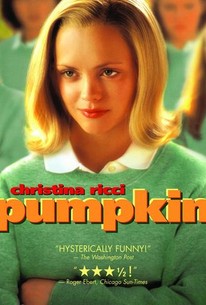 Movie Info
Adam Larson and Tony R. Abrams' directorial debut Pumpkin is an unconventional love story. College senior Carolyn McDuffy (Christina Ricci) agrees to coach handicapped athletes from a local town in order to help her sorority win an award. She and her sorority sister Jeanine (Dominique Swain) are put off by the activity. Carolyn's discomfort begins to dissipate after meeting Pumpkin Romanoff (Hank Harris), a young man in a wheelchair who has dreams of competing in the shot put. Slowly, Carolyn falls in love with Pumpkin, sending her into conflict with her boyfriend Kent (Sam Ball), her sisters, and Pumpkin's mother (Brenda Blethyn). This film was screened at the 2002 Sundance Film Festival.
News & Interviews for Pumpkin
Critic Reviews for Pumpkin
Audience Reviews for Pumpkin
In thinking about this movie, I first thought that is was such a stupid movie because none of it was logical. A car burns up in a grand explosion, and the driver comes out without a burn. A girl takes every pill she can find in the medicine cabinet, but comes out unscathed. But OK, the movie is a satire on almost everything.
Pumpkin 2002 is about women that who becomes a mentor to a disabled guy. Over time their friendship grows so munch like a hidden romantic relationship. Everyone around them total disapproval of them be that way together. Will Carolyn and Pumpkin be able to be togther by end or will people still disapproval of them by the end of the film. Pros Good acting and plot. True eye opening on this subject. Good ending It says it a comedy but I found it as a hard drama Tearjerker Cons Slow at times If u wants a good drama you should give this a try.
erika bruhns
Super Reviewer
Pumpkin, a mix of drama, comedy and romance flaw with the not so good screenplay written by Adam Broder. Is really sad see that Pumpkin is not a fresh movie.
Lucas Martins
Super Reviewer
Pumpkin Quotes
There are no approved quotes yet for this movie.