Pumpkinhead
(1988)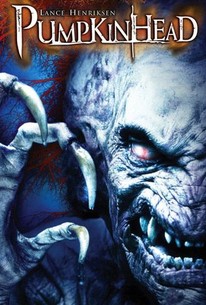 Movie Info
After his son is killed in a motorcycle accident, a farmer invokes the powerful demon Pumpkinhead in his quest for revenge in this horror film. He soon comes to regret his actions, however, and attempts to stop the demon, but he may already be too late.
News & Interviews for Pumpkinhead
Critic Reviews for Pumpkinhead
Audience Reviews for Pumpkinhead
½
Haggis: You're a fool, Ed Harley. "A Grim Fairy Tale" Pumpkinhead is a film that surprised me a great deal. To be honest the only real reason I watched it was because it made sense around the Halloween season, but to my surprise, this is a very underrated movie. It has a nice slow buildup at the start and once the monster comes into play, the film shows off some great scenes. There's a lot to like about Pumpkinhead if you're a horror fan. It has a good and different(at least in birth and appearance) monster, a great middle of nowhere setting, and excellent atmosphere and sets. Ed Harley is a farmer and single parent of a young boy. They work together all day at a grocery store that Ed owns and their routine is interrupted when some city folks stop by the grocer on their way to a cabin. When one of the teenagers accidentally runs over Ed's boy, Ed takes his son to a local witch because he wants revenge. Hence Pumpkinhead is summoned. The movie has a look and feel that I just really enjoyed and I really like the simpleness of the villain and story. It's just a really fun and enjoyable horror film that kind of has a little of everything. There's a witch, a demon, a fairy tale, all wrapped into a revenge/monster slasher. It's tough to describe but that's what makes it worth a look. It has a feel that is truly its own. This may just look like another bad horror film. I mean a monster called Pumkinhead, come on. But really I believe it will surprise viewers who give it a chance. I definitely know it surprised me. Pumkinhead is an excellent horror film for around the Halloween holiday.
Melvin White
Super Reviewer
The plot is simple, the monster is simple, and the characters are simple... but are they too simple? Why don't we get to know more about the main character? I thought this movie was okay, but I wanted more from it. A little about the history of the Pumpkinhead monster at least.
In his ungainly, deep-fried directorial debut â~Pumpkinheadâ(TM), Stan Winston, the connoisseur of animatronics and practical effects, has crafted another urban legend to rank alongside Candyman and Freddy Krueger. Winston doesnâ(TM)t adhere to the â~Jawsâ(TM) rule where Spielberg slowly unveiled the shark in portions. Pumpkinheadâ(TM)s ghoulish, emaciated figure is explicitly shown in a 1957 prologue and he looks like a fragile marionette. The only spine-tingling moment is when Ed (Lance Henriksen) hallucinates his son pleading âwhat did you do daddy?â?. The harmonica-and-banjo music is too folksy for a gothic horror movie. The teenage rabble in this movie is the stereotypical beer-guzzling punks who snicker at the cannibalistic yokels and Joel, the ringleader, is particularly callous and unsympathetic. On top of that, Winstonâ(TM)s voodoo choreography during the stigmatic showdown near a barn is very cumbersome. Notwithstanding the hokey writing, the father-son relationship with Ed and Billy is wrenchingly touching.
Cory Taylor
Super Reviewer
Pumpkinhead Quotes
There are no approved quotes yet for this movie.