Punch-Drunk Love
(2002)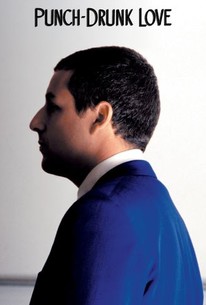 TOMATOMETER
AUDIENCE SCORE
Critic Consensus: Odd, touching, and unique, Punch-Drunk Love is also delightfully funny, utilizing Adam Sandler's comic persona to explore the life of a lonely guy who finds love.
Movie Info
A dark comedy centering around Barry Egan, the socially impaired owner of a small business-distributing novelty toilet plungers-in the San Fernando Valley. Dominated by seven sisters, and constantly negotiating his own manhood, he is unlikely to find romance unless romance finds him. In an attempt to resolve his loneliness, while having a vulnerable moment, Barry contacts a phone sex operator who, in turn threatens him with blackmail. Connected to a larger business network, the operator sends some thugs on a mission from Utah to California, to follow, scare, and extort Barry. Barry becomes desperate, until a new door opens in his life. Therefore, when one of his sisters fixes him up with a lovely young English woman, Lena--who has rather quirky qualities herself--his emotions go haywire, fluctuating between lust, self-doubt, and uncontrollable rage. Nonetheless, Barry will embark upon whatever adventure it takes, just to have a shot at true romance.
Critic Reviews for Punch-Drunk Love
Audience Reviews for Punch-Drunk Love
Adam Sandler shows, much to our utmost surprise, that he can act when he wants and that he was the perfect choice for Anderson's take on a romantic comedy, a sweet, darkly humorous and amazingly well-directed film that is miles above most romcoms that Hollywood produces.
Carlos Magalhães
Super Reviewer
½
Sublime and surreal, this is quite a film from Paul Thomas Anderson. It is a smaller film from him, but one that is still as impressive as his others. The plot follows a shy sad sack prone to occasionally violent outbursts who begins dating a woman as equally shy and awkward as him. He's got seven sisters who hate and mock him, and he's got four goons after him looking for money after he gets extorted following a phone call he made to a phone sex line. The film is weird, as it is a surreal romantic dramedy, but like Brazil, despite that there are dark undertones (more subtle here than in Brazil) there is a quirky, uplifting feeling and charm as well...which I really enjoyed. Whimsical is the perfect way to describe this film. The acting is superb-leave it at that. No, I'm not kidding. This is Sandler's best. This film above all, is just wonderful to look at, and another reason for why it's so charming and great. It is a bit rough around the edges, and kinda bizarre, but it's really hard not to like, which is sad since it's still pretty underrated, but I really hope that changes.
Chris Weber
Super Reviewer
A visually interesting and unconventional love story about a very awkward character coming into his own. I've tried, but I just don't think P.T. Anderson is my kind of film-maker - I recognize why the work he's doing is good, but I don't enjoy it all that much. Of course, all Anderson acolytes tell me that you have to watch his movies a few times before you really see how much he's doing, and how well. I'm open to revising my opinion someday... in the meantime, Sandler surprises here, and there is some wacky intrigue, but overall it comes of like the Coen brothers with an MFA. Not terrible, just not my cup of tea.
Daniel Perry
Super Reviewer
Punch-Drunk Love Quotes
| | |
| --- | --- |
| Barry Egan: | I laugh. I laugh and laugh, even when I'm alone. |
| | |
| --- | --- |
| Lena Leonard: | So here we go. |
| | |
| --- | --- |
| Barry Egan: | I didn't ask for a shrink, that must've been somebody else. Also, that pudding isn't mine. Also, I'm wearing this suit today because I had a very important meeting this morning, and I don't have a crying problem. |
| | |
| --- | --- |
| Lena Leonard: | People are just crazy in this world, I think. |